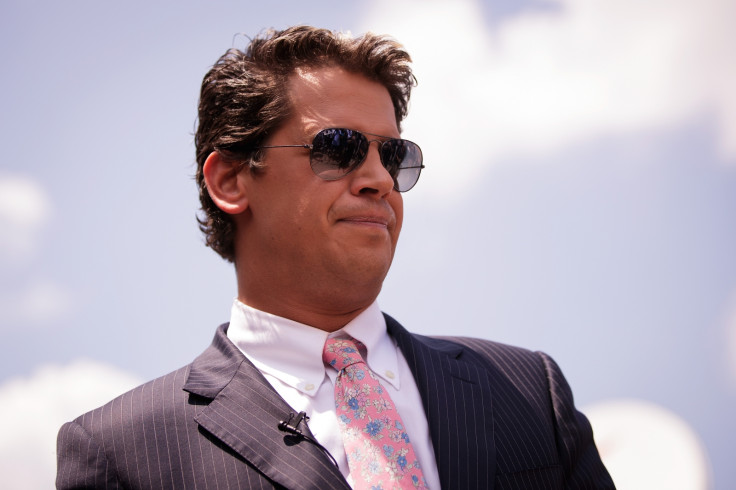 A man has been shot during protests outside an event held by Breitbart writer Milo Yiannopoulos at the University of Washington in Seattle.
The 32-year-old man who was shot, was reportedly rushed to hospital in a critical condition, The Hill reported, while a suspect has handed himself in to police.
In a series of comments on his Facebook page, Yiannopoulos said: "There was a shooting tonight outside my event at the University of Washington in Seattle, local police have confirmed.
"A man was taken to hospital with a potentially life-threatening wound to the abdomen. We don't know any more at this time. My prayers are with the victim, whoever he is."
Yiannopoulos, who writes for right-wing website Breitbart and is viewed as a leading commentator of the 'alt-right', also hit out at the president of the university, Ana Mari Cauce, and the media, claiming they minimised the shooting by saying he was a white nationalist.
"I don't know why Ana Mari Cauce, president of the University of Washington, is covering up the crimes of left-wing protesters. But she claims that other than the shooting, last night's protests were 'peaceful'. A ludicrous, easily disproven lie. Why bother?" he wrote.
He added: "Not to make it all about me, but I'm seeing dozens of lies in the media from journalists calling me 'white nationalist' and'alt right'… almost feels like they're trying to legitimise violence against my supporters by lying about us?
"And they know during crises and periods of blanket media coverage people don't have the time to ask for corrections from every outlet. Reporters really are scumbags. Lowest of the low."
The man who handed himself in for the shooting has not yet been named.
Yiannopoulos wrote anti-Islam articles for Brietbart. The Southern Poverty Law Centre – the American civil rights organisation – quoted an anonymous Brietbart staff member, who said that Yiannopoulos is a proponent of "white ethnonationalism" – a white supremacist theory, stating that people of colour and Caucasians should not live in the same country or territory – "as a legitimate response to political correctness".
Yiannopoulos developed a large following on the social media site Twitter. He was banned from the site after instructing his followers to harass his critics.