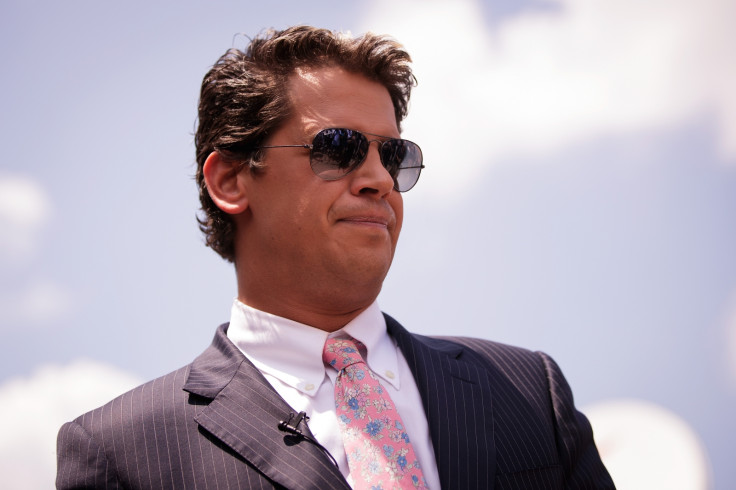 Inflammatory commentator Milo Yiannopoulous has been offered a book deal worth a rumoured $250,000 (£230,000).
The Breitbart writer, who described himself as the internet's most fabulous super villain prior to being banned from Twitter, is currently touring universities around the US.
Yiannopoulos told The Hollywood Reporter he had signed a book deal with Simon & Schuster, although he did not comment on financial specifics, instead stating he had been offered "a wheelbarrow full of money".
"I met with top execs at Simon & Schuster earlier in the year and spent half an hour trying to shock them with lewd jokes and outrageous opinions. I thought they were going to have me escorted from the building — but instead they offered me a wheelbarrow full of money," he added.
The controversial writer, frequently hailed by members of the alt-right, a white nationalist movement, is also making a film of his 'Dangerous Faggot' tour of US universities.
Yiannopoulos was previously an outspoken Twitter user, before he was banned from the social media site for allegedly instigating online attacks against actress Leslie Jones, who reported she had been subject to racist abuse and threats on her life.
"They said banning me from Twitter would finish me off. Just as I predicted, the opposite has happened," Yiannopoulos said.
"Did it hurt Madonna being banned from MTV in the 1990s? Did all that negative press hurt Donald Trump's chances of winning the election?"
But news Yiannopoulos had been offered a book deal was met by derision from many Twitter users.
And the writer appeared to suggest his book, rumoured to be titled 'Dangerous', would be his chance to make his views available to mainstream readers.
"Every line of attack the forces of political correctness try on me fails pathetically. I'm more powerful, more influential and more fabulous than ever before, and this book is the moment Milo goes mainstream. Social justice warriors should be scared — very scared," he added.