Man Utd Legend Slams Ten Hag For Scott McTominay Treatment
Manchester United recently defeated Brentford 2-1 in the Premier League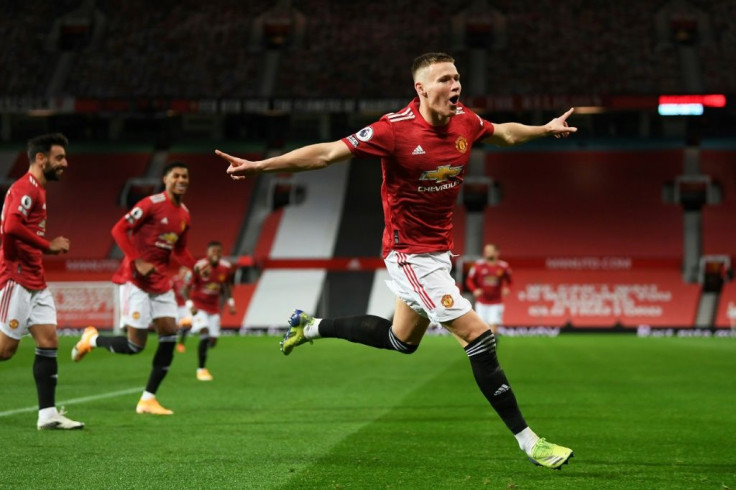 Manchester United legend Peter Schmeichel has slammed Red Devils boss Erik ten Hag for the reduced role of Scott McTominay following the midfielder's recent heroics.
McTominay netted an injury-time brace against Brentford at Old Trafford on Saturday that saw the hosts win 2-1, their first victory in three competitive matches.
Schmeichel, who captained Manchester United to Champions League glory in 1999, expressed his worry over McTominay's situation at the club. The former goalkeeper said he wasn't sure of Ten Hag's approach towards the 26-year-old midfielder, especially after his latest heroics.
McTominay was close to leaving Manchester United in the summer amid interest from Premier League rivals West Ham. However, the move never materialised as the Red Devils didn't receive a suitable offer and eventually decided to keep their academy player for this season.
The Scottish midfielder, who is yet to secure a place in Manchester United since breaking into the first team under Jose Mourinho, has further fallen down in Ten Hag's pecking order in the ongoing campaign. But he proved his worth with two late goals that secured a spectacular comeback for his side and could have also saved the Dutch boss' job.
"He's got the ability to do that. I don't understand what coaches are doing. Scott McTominay was up for sale all summer and I don't understand that.
"He's a fantastic player, you need utility players. You need players that can play different positions, that can come from the bench and change the course of the game and he's definitely one of them. You bring in players and you sit there with big question marks, why is that player there?" a confused Schmeichel said in a recent interview.
After the 2-1 triumph over Brentford, Ten Hag thanked McTominay and praised his relentless attitude.
"You know with Scott you get drive and energy on the pitch. He can make a goal, he can arrive and his willingness is very strong. His feeling for this club is very strong, he plays with all his heart. He will always defend the colours of this club," added Ten Hag.
While Ten Hag admitted he was keen to keep the Scotland international after his game-winning display on the weekend, he was also open to selling him.
"Every player has a price but he has a big value, sporting and also economic. I want to have a player like Scott McTominay in the squad. He is Manchester United in every faith," added Ten Hag.
The Manchester United boss also said that McTominay will fight every minute for a place in the side as he is "Manchester United in everything in his heart".
These comments from Ten Hag left Schmeichel confused as to why the Red Devils head coach was willing to give up McTominay.
Earlier this month, Manchester United suffered a 3-2 loss against Galatasaray in the Champions League. Following this, one of the players who received a lot of criticism was their centre-back Raphael Varane.
One of the critics of Varane was Manchester United legend Paul Scholes, who claimed the Frenchman may already be finished at the top level.
Expressing his worry over Varane, Scholes said: "I just think his legs are looking sluggish, he can't keep fit."
Manchester United have lost five out of their last eight matches in all competitions. In Group A of the Champions League, Erik ten Hag and co. sit at the bottom of the table having lost both their fixtures so far.
With four wins and four losses, Manchester United currently sit 10th in the 2023-24 Premier League table. After the ongoing international break, the Red Devils will return to action on October 22 in an away league fixture against Sheffield United.
© Copyright IBTimes 2023. All rights reserved.