Since the Manchester attack on Monday 22 May, the internet has been flooded by trolls taking advantage of the mayhem to create fake missing children posts. Elsewhere, a slew of sick alt-right jokes been targeted at singer Ariana Grande.
Several incidents have seen trolls using the photographs of unrelated children and teenagers to make false missing person appeals on Twitter. In the panic that that followed the blast at the end of Grande's concert on Monday 22 May, multiple youngsters posted photos of friends and family they had lost on social networks, asking if the missing people were safe.
In one incident, several hours after the terror attack on Manchester Arena, Rachel Devine, a blogger and photographer based in Melbourne, Australia woke up to hundreds of messages of concern from friends and family. A photograph of Devine's 12-year-old daughter Gemma had been making the rounds on Twitter, tweeted out by a fake profile purporting to be Gemma's friend.
Devine was forced to respond to the retweets on Twitter and make it clear that her daughter's photograph was stolen. She remains baffled as to why anyone would do this in the midst of a crisis.
"I had many messages online asking me if Gemma was okay with screenshots [of her photo online]," Devine told Australian parenting magazine Kidspot. "I have been calming fears all over the internet since that Gem was safe and nowhere near the event. I just thought, why? What purpose does that serve?"
American Disney channel child actress Skai Jackson, 15, was shocked to discover that one of her Instagram snaps had been stolen too. Her photograph was shared by a fake Twitter profile in a post that said: "My sister is missing in the concert haven't heard of her please contact me #Manchester #RoomForManchester worried and sick now."
The rise of disinformation during crisis situations
In the late 2000s, with the rise of social networks and internet penetration, came a new social phenomenon that is often known as "crisis communication" – the practice of regular citizens using their reach on social media to gather crucial information during an emergency and set up impromptu grassroots efforts to help victims and assist the authorities.
During terror attacks and natural disasters, regular citizens use Twitter, Wikipedia and blogs to set up missing person registries and share information about where people could go for help. Instead of the authorities providing citizens with information, now citizens directly communicate with each other in a network.
In many cases these efforts have helped reunite families and provided urgent assistance to emergency first responders, so it is no wonder that people in Manchester and on the internet mobilised support so quickly after the Manchester attack.
However, for some reason, trolls are now seeking to get involved in crisis situations to add to the mayhem. IBTimes UK has seen numerous posts made on Facebook, Tumblr, Twitter, Instagram and image board 4chan showing extremely unpleasant and unsavoury behaviour.
Self-policing and smear campaigns
Some of the posts are mere jokes made in bad taste about the attacks, such as Facebook statuses made on personal profiles. In many of these cases, horrified Facebook users have been calling out these jokers and screencapping their responses, then sharing the screenshots with their friends in the hopes of shaming these people into stopping their behaviour.
This same self-policing phenomenon was seen when US journalist David Leavitt tweeted nasty jokes straight after the attacks on 23 May – he received thousands of replies from disgusted Twitter users, including some celebrities.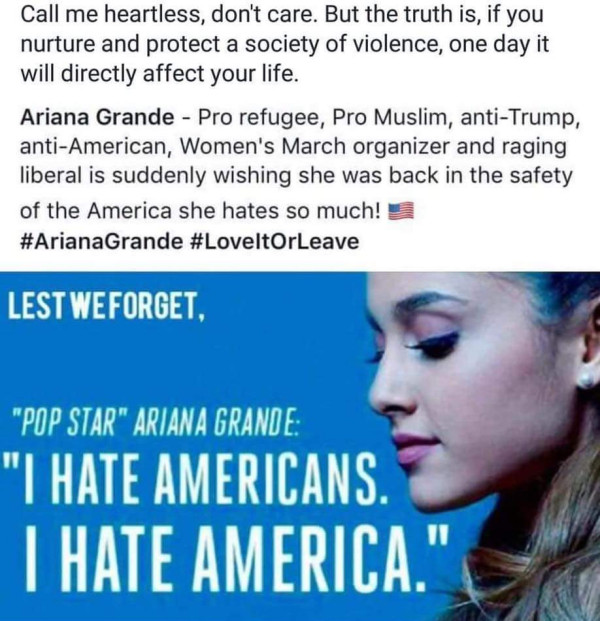 But other posts seem to have more of an agenda. Pro-Trump groups on Facebook and Tumblr have been sharing derogatory posts about Grande. Even worse, trolls have taken those posts, altered them and posted them to Tumblr and Instagram, claiming that her previous pro-refugee, pro-Muslim and anti-Trump sentiments somehow caused the attacks.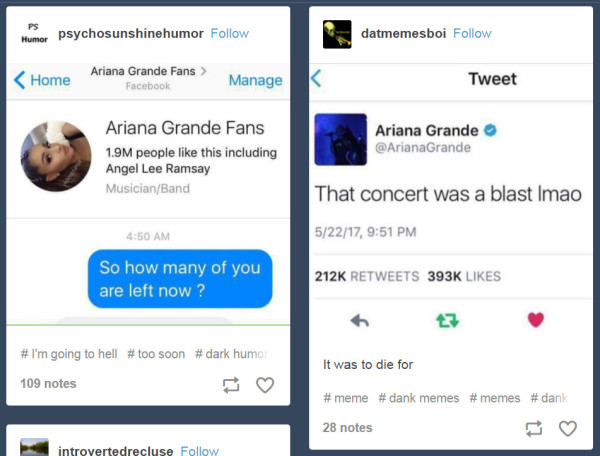 Other posts we saw seem to be deliberate attempts to paint the singer as uncaring – screencaps taken from her official Twitter account and Facebook fan page have been doctored to make it look as if she made jokes about the tragedy.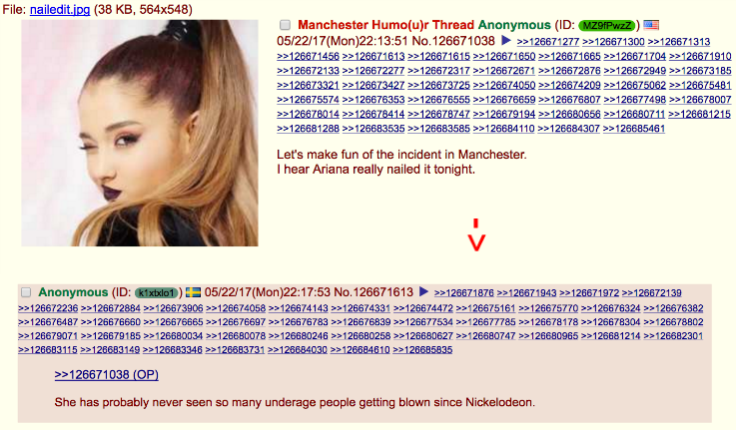 And on 4chan's Politically Incorrect image board, threads were started asking users to "make fun of the incident in Manchester". Some of the threads have been taken down, but others are hiding on the website using misspelled thread titles to keep moderators from finding them.