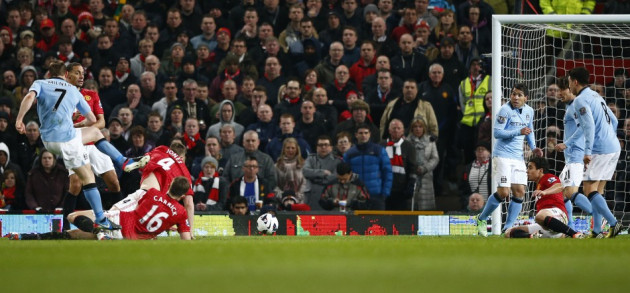 Season's Don't Hinge on Defining Matches
If last season did much for the theory that big games dictate the destination of the Premier League title, then this season, for all its' dreariness, has worked to re-establish the necessity for seasonal consistency.
Last term's cup final like crescendo to the campaign at the Etihad Stadium, along with with Manchester City's sterling fight back and Manchester United's woeful slump provided unbridled excitement, but was a misguiding display of how titles are won.
On football's cliched parchment whereby all preconceptions are established, City have undisputedly the best team player for player, but it's United's squad, not least their unwavering performances, which have all but delivered their 20th league championship. City's win emphasised their need for greater consistency.
RVP Purchase Leaves Danny Welbeck Floundering
The last 861 minutes of United's season has rubbished theories that the summer signing of Robin van Persie has single handily delivered the Premier League title. The Dutchman is entering Fernando Torres' realms of ineptitude, not that anyone would have you believe it.
There's no doubt that for half a season, Van Persie has warranted being regarded as United's primary forward. Sir Alex Ferguson hasn't been concerned by the alteration of Wayne Rooney's positioning nor the relegation of Javier Hernandez's role at Old Trafford to a mere peripheral figure.
But perhaps the man most affected has been Danny Welbeck. The England international has been forced to adapt or die for most of the campaign, preferred out wide or off Van Persie, rather than in his preferred central birth.
The result has been a return of one league goal this season, with the likes of Jermaine Jenas, Modibo Maiga and Darren Bent having all made fewer league appearances, yet doubled Welbeck's tally. No substitute for Van Persie for much of the campaign, the 23 year old's troubles require a moral boosting move into the middle in twilight of the season.
James Milner is a Man for All Positions
Undervalued for both club and country, James Milner can do no wrong yet is an unappreciated as any player in the Premier League. Far removed from his solo mission at Aston Villa, Milner provides City's insurance policy, often making way for David Silva and Sergio Aguero to provide the glitz.
His defensive role sees him derided as a negative selection, but at Old Trafford on Monday night his goal allowed him to flirt with the limelight once again.
Regular reliability might suggest otherwise, but Milner's goals this season are an indication of the flair he possesses. Thunderous strikes against Sunderland and Arsenal sandwiched a brilliant effort against Wigan Athletic in November.
City have often been accused of being one-dimensional in attack this season, so perhaps Mancini should adopt a more direct approach in the form of Milner in the hope of regaining the title.
Nastasic Showing Lightening Doesn't Strike Twice
Even the bizarre signing of Richard Wright grabbed more headlines on deadline day of the summer transfer window than that of Matija Nastasic. Having looked at his career trajectory, you would have been forgiven for thinking that the Serbian represented Stefan Savic II.
The ex-Partizan and Fiorentina defender, who was partially swapped for Savic, shares only his country of birth with the hopeless Montenegro international. Nastastic has made 19 starts in his maiden season, preferred ahead of Joleon Lescott, and has helped City towards achieving the meanest defence in the Premier League.
His marshalling of Van Persie, for all his goal scoring problems, still as intimidating a proposition as any in world football, was his finest hour yet.
Mancini Must Spend to Breach Gap
If it wasn't the flexible Milner, then Gael Clichy provided the only wide option for City last night, a regular theme during this season.
City's focal point has too often come through the middle, Silva has been swamped with work, Yaya Toure's influence going forward has been nullified and Nasri continues to make Arsenal's decision to part ways with him in 2011 a good one.
All in all, with their league goal tally down by 18 from the same stage last season and having fired fourth blanks this term, twice as many as the whole of the last campaign, City have lacked variety in attack and have as a result become too easy to play against.
You wonder how different things would have been had they signing Eden Hazard, whose movement has been mesmerising at times this season, ahead of Chelsea and you wonder if the shackles placed on Mancini prevented a more definitive move for the Belgian. Coupled with the need to replace Mario Balotelli, the Italian must be handed the license to spend big this summer.