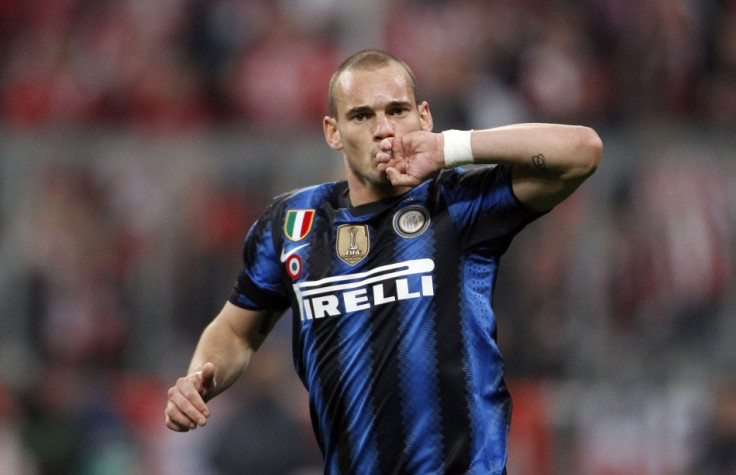 Wesley Sneijder has revealed that he is hungry for more trophies in his footballing career, with the Inter Milan playmaker hoping to win many more accolades before he hangs up his boots for the last time.
Inter are currently 16th in the Serie A table, and have collected just 11 points from ten matches.
And as the side struggle to find form, Sneijder, who was a priority target for Manchester United during the summer transfer period, says that no matter how many times he wins, he still wants to add more trophies to his side's cabinet.
"What I'm looking forward to is winning prizes," Sneijder said when asked his ambitions for this season and beyond.
"I've already experienced many things and I've already won great prizes but of course you're always hungry for more.
"I've still got some years to go and I'm looking forward to it."
United were connected to Sneijder throughout the entire summer, and though the club have one of the largest transfer budgets in Europe, not even Sir Alex Ferguson was willing to shell out £35 million plus a £200,000 per week wage on the playmaker.
But with January coming around, and Inter facing an uphill battle for Champions League qualification, the side may decide that they'll allow Sneijder to go if he becomes increasingly unhappy at the club.
United, in comparison to Inter, are currently second on the Premier League table, and can offer Sneijder the chance to challenge for trophies, both domestically and in Europe. The 27 year old has admitted that talks took place over his sale during the summer, and if they were to do so again in January or next summer, he may not be as adverse to leaving the Serie A outfit for what are currently greener pastures.
In the same interview, Sneijder recalled his favourite goal in his footballing career so far, with the Holland international telling reporters: "It's very difficult to answer because I have scored great goals but I have also made very important goals.
"I use my instep and sometimes I make goals like that but, of course, sometimes you need some luck as well. The moment you touch the ball, and when it goes in the air, you already know if it's a golden one or not.
"Being decisive is the most important and perfect moments are fantastic."