Manchester United £40m Playmaker Target Coy on Future
Nicolas Gaitan says he isn't making a move... for now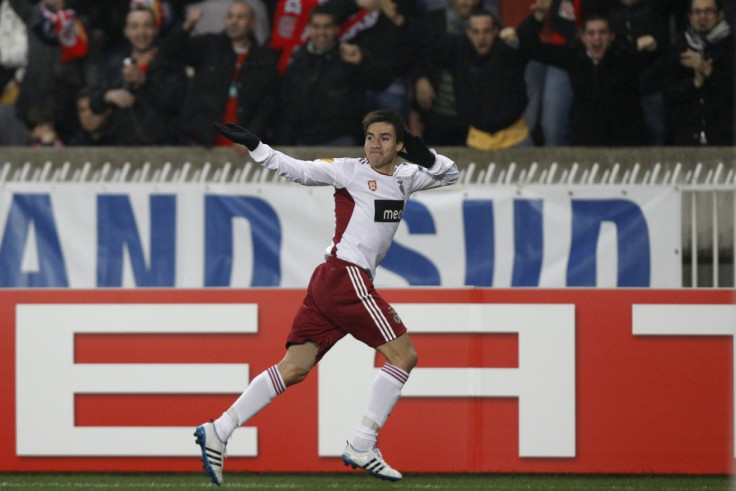 Nicolas Gaitan has insisted that he is not thinking about whether his future lies away from Benfica, but the playmaker has been coy over if talks have taken place with Manchester United over a possible move.
Gaitan was part of the Portuguese outfit that took a shock 2-2 draw from Old Trafford during the week, and transfer speculation has been growing stronger by the day that the 23 year old might be on the way out.
But Gaitan has maintained that while he is aware of interest from United, he won't be heading to the club any time soon, though he did hint that Benfica could be in talks over a move without him knowing about it.
"Manchester? I am very content for the moment at Benfica," he told Sport TV. "I am very happy to be here with a team that is fighting to win important titles.
"About my future, I will only say that I have signed a deal with Benfica and nobody has told me that things will change. For now I will be staying with Benfica."
United have been connected with Gaitan numerous times, though a bid never eventuated in the last transfer window. He is said to have a £40 million bounty over his head, which would make him more expensive than summer target Wesley Sneijder.
But if the club were to make the purchase, the Argentine would have a much lower wage bill, possibly making him a cheaper overall purchase. He also wouldn't unsettle any of United's other big stars, who are not on wages anywhere near comparable to Sneijder's £200,000 a week.
And Gaitan has proven his worth against United, with the midfielder instrumental in the side's draw to guarantee qualification for the Champions League final 16.
United are on the lookout for a midfield signing in January, particularly after not finding a replacement for the retired Paul Scholes in the summer. Sir Alex Ferguson said at the time that the side didn't need a Scholes-replacement, and would simply change their style of play this season. And while the side have been relatively successful, and are second in the Barclays Premier League, a heavy loss to Manchester City and lacklustre results on the Champions League have put the spotlight on United's midfield to deliver.
And in that respect, Gaitain would be an apt fit for the Red Devils, so long as Sir Alex Ferguson can agree that he is a needed part of the squad next year.
© Copyright IBTimes 2023. All rights reserved.