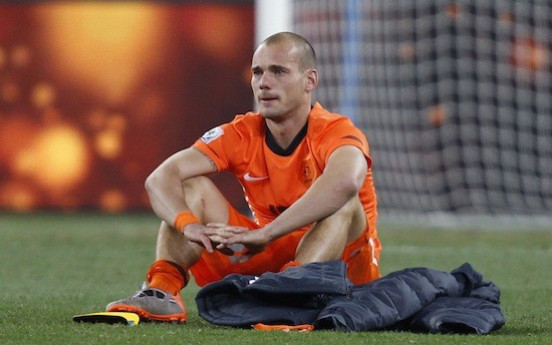 Manchester United are hoping to beat Chelsea to sign Wesley Sneijder in January with the club willing to offer Galatasaray two players in a swap deal for the playmaker or a cash deal, reports claim.
Sneijder has been a long-term target for United going back to his days as an Inter Milan player. In 2011 the English giants were unable to match his wages before a standoff with Inter over his sky-high pay packet saw the Holland international eventually shipped off to Turkey to join Galatasaray.
While he has been able to get his career back on track with the side the 29 year old is believed to be looking for a move to a big club in preparation for the 2014 World Cup and Chelsea were reportedly particularly interested last summer.
But the Express are claiming that United hope to beat Jose Mourinho to the star and finally land a target that has been on their wishlist for multiple seasons, and will offer Antonio Valencia and Luis Nani to the club as an alternative to a £12m cash bid.
The deal would be a complicated one to pull off should Valencia and Nani make the move to Turkey with the side currently already at their limit of foreign born players. But should current manager Roberto Mancini take a liking to the duo he could be willing to get creative to make the deal work to allow United to sign the man Chelsea have been chasing in the process.
While United have a policy of going for younger players who are full of potential for long-term success the side broke such a rule to land Robin van Persie in the summer of 2012 and the striker has proven to be a wild success for the club.
And with Sneijder having scored five times in 13 appearances for Galatasaray this season it would appear that he still has a lot of talent to offer and won't be coming with the unaffordable wage bill that halted a move from Inter in 2011.