FT Manchester City 4-1 Manchester United
FT Cardiff City 0-1 Tottenham Hotspur

Yaya Toure, Samir Nasri and Sergio Aguero find the back of the net for City
Spurs dominated possession at Cardiff City Stadium with Paulinho getting a late goal
5:59pm: And that's a wrap for Spurs and the north London side go to second place in the table. Thanks for joining us - check out IBTimes UK for all the latest reaction after a big day of Premeir League football.
5:55pm: GOAL! Paulinho
And Spurs get what they've been asking for this whole game. The Brazilian gets the goal in injury time to take Tottenham to second in the table - if they can hold on until the final whistle.
5:54pm: Full time at Etihad and Manchester City are victorious over Manchester United in the first post-Ferguson derby. Lots for David Moyes to work through as his side were outplayed and outmuscled by City's old and new faces.
5:53pm: Lewis Holtby has been brought on for Tottenham - can the midfielder get that goal they've been crying out for all game?
5:52pm: If results stay as they are, United will be seventh in the table, City will move to second, Tottenham will go to fourth and Cardiff will be 14th.
5:49pm: We're moving into injury time at Cardiff and the Etihad. Tottenham are failling to defend with as much venom as earlier in the game and Cardiff are starting to get chances. Can United make up for what has been a pitiful match against City in the next few minutes?
5:45pm: GOAL! WAYNE ROONEY
Wayne Rooney puts one in to save a few of United's blushes. The striker has been the side's only crative outlet today and he is finally rewarded for his hard work after a perfect free kick.
5:43pm: Peter Odemwingie looks to have been Cardiff's best chance on goal so far, and the side are getting into the game a bit more though they still have no goal attempts on target. Not long left for Tottenham to make the most of this.
5:40pm: Fans on Twitter reacting badly to David Moyes' selections today, particularly Ashley Young, Antonio Valencia and a lack of Shinji Kagawa. Kagawa hasn't been brought on at any point in the game and despite United having only three shots on target Javier Hernandez doesn't look to be in the manager's plans either.
5:37pm: Samir Nasri celebrates his goal against United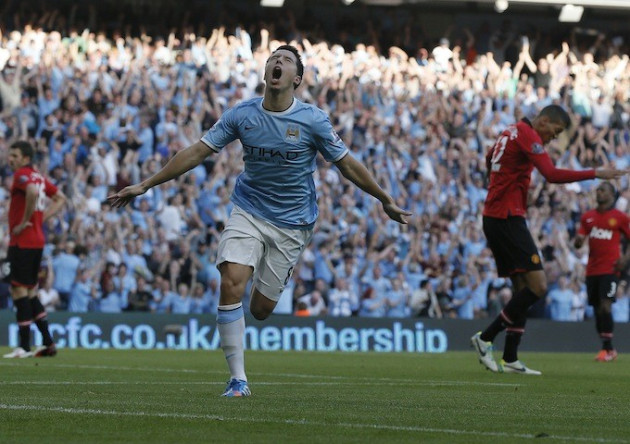 5:33pm: Fans are now chanting 'there's only one David Moyes' around Etihad. This game can't have possibly gone worse for the manager. Don't forget though, it's still not as bad as United's 6-1 thrashing at the hands of City in 2011.
5:31pm YELLOW CARD: Antonio Valencia handed a yellow for arguing with Howard Webb over a call involving Aleksandar Kolarov.
5:27pm: Tottenham have now had 22 attempts on goal and are still failing to get past Cardiff. City have scored four goals with just 15 attempts.
5:19pm: United have still had no chances on target - City have had 4, all they needed to get a 4-0 scoreline.
5:15pm: Over at Cardiff it's still a goalless affair, though Gylfi Sigurdsson and Roberto Soldado are both coming painstakingly close to scoring. Sigurdsson was particularly unlucky with his effort hitting the bar.
5:10pm: GOAL! Samir Nasri
Things go from bad to worse for United. Jesus Navas had no trouble bringing the ball up the pitch and with United's defence a shambles Nasri is picked out from the available City players to finish it off.
5:09pm: Meanwhile things have kicked off again in Cardiff and Tottenham will be looking to capitalise on their possession City-style.

5:05pm: GOAL! Sergio Aguero
Well this is turning into a nightmare for David Moyes. Negredo out-muscles Nemanja Vidic to pass the ball to Aguero who scores his second against United.
5:05pm: We're back in action at the Etihad Stadium and...
4:52pm: It's now half time in Cardiff as well, and Andre Villas-Boas will be looking are why his side are unable to finish so many of their chances. Spurs have had 14 shots and 6 on target so far in this game to Cardiff's 1 attempt with none on target. The Welsh side will be feeling somewhat aggrieved though after Ben Turner was denied a goal thanks to Aron Gunnarsson's foul on Hugo Lloris.
4:49pm: Half time for City and United, and United need to make some big changes over the break if they have any hope of getting into this game.
4:47pm: GOAL! Yaya Toure
Marouane Fellaini fails to mark the City man who seems to use his knee to put the ball in the net after a corner from Alvaro Nagredo.
4:44pm: According to Infostrada Sports, Wayne Rooney has received more PL yellow cards (8) against Man City than any other player. He was level with Kevin Davies on 7.
4:38pm: David Marshall is now the focal point for Cardiff's defence, with Andros Townsend having a fair chance on goal before the keeper is once again sprung into action. It seems like a matter of time before one of these chances go in for Spurs, with the side holding 68% of the possession.
4:36pm: Sergio Aguero celebrates his goal in the 16th minute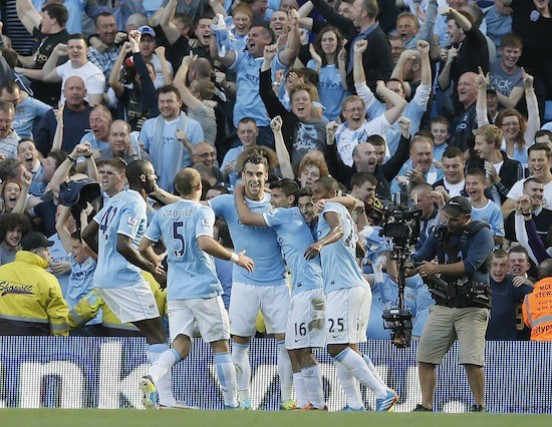 4:33pm: YELLOW CARD: Wayne Rooney receives a yellow for a rough tackle on Vincent Kompany. He's had this coming with the striker being let off lightly on a couple of occasions during the game.
4:30pm: Ben Turner is currently down for Cardiff and requiring treatment but the defender returns to the pitch soon after - Tottenham have found their feet in this match and are getting the vast majority of the shots.
4:48pm: Manchester City are completely dominating in their shots on goal with 9 to United's 0. They have 66% of possession at the moment and are looking the better side in the first 30 minutes.
4:24pm: Cardiff are unbeaten in their last four matches as they take on Tottenham and the Welsh side clearly have a high level of confidence as they make life hard for Spurs. Bellamy is seeing the ball and giving it a shot in front of goal but Caulker and Eriksen are btoh pressing for the visitors as well.
4:18pm: GOAL! Sergio Aguero 16th minute
Brilliant finish by the striker that is the reason why he's a starter for one of England's top clubs, after Aleksandar Kolarov passed behind him. The Argentine was able to turn around and fire the ball past David De Gea into the net. City are completely in control now and come close within seconds of another goal thanks to Samir Nasri.
4:15pm: United are starting to lose possession now as City take control and boast 65% of the ball so far.
4:09pm: YELLOW CARD: Matija Nastasic is booked after a aerial tackle on Chris Smalling, and the crowd aren't happy.
4:07pm: Meanwhile in Cardiff, the hosts have made a bright start with Tottenham on the backfoot. Spurs are having their chances on goal thanks to Soldado but it's nothing Cardiff can't eaily cope with.
4:05pm: Manchester City might have kicked off with the ball, but United are already getting their teeth into the action with Wayne Rooney and Danny Welbeck going for goal. but it is City that create the first corner. End-to-end stuff going on here.
4:00pm: We have officially kicked off!
3:55pm: Elsewhere in the Premier League today, Arsenal moved to the top of the table with a 3-1 win over Stoke as Aaron Ramsey scored his seventh goal of the season. Swansea also dominated a poorly Crystal Palace taking a commanding 2-0 win which will see the side settle into ninth place.
3:47pm: David Moyes reveals the latest on Sky Sports over Robin van Persie's injury: "He had a groin strain during the week. I thought he might have been Ok today, but not quite. We gave it every chance up until this morning. It is nothing serious. He could have a chance for Wednesday [against Liverpool in the League Cup]."
3:45pm: This is the first time Tottenham and Cardiff have met since the 1977-1978 season in the old Division Two. For Manchester United and Manchester City, on the other hand, have met countless times, and in the last 10 United have been victorious on six occasions while City have won three.
3:36pm: For Tottenham, Christian Eriksen has earnt himself a starting position after some brilliant performances since joining the north London club, while Roberto Soldado will also be looking to build on his goal tally. Craig Bellamy's return from injury will be met with relief by Malky Mackay and the sides could be in for an afternoon full of goals if their strikers are at their firing best.
3:32pm: Wayne Rooney will be handed a chance to shine again for Manchester United alongside Danny Welbeck - the pair have both put in improved performances so far this season after suffering in front of the net in the last campaign and it will certainly be a tough challenge for the Red Devils as City see Vincent Kompany come back into the mix.
3:26pm: So the biggest news in the line-ups so far is that there is no Robin van Persie in Manchester United's starting squad, or on the bench. The striker must have an injury of some kind, and Manuel Pelligrini has commented on the situation: "Robin van Persie is a very important player for Manchester United, but they have other important players also."
3:24pm: Line-Ups for Manchester City and Manchester United:
Man City: Hart, Zabaleta, Kompany, Nastasic, Kolarov, Fernandinho, Toure, Nasri, Navas, Aguero, Negredo. Subs: Pantilimon, Lescott, Richards, Garcia, Milner, Jovetic, Dzeko
Man Utd: De Gea, Evra, Ferdinand, Rooney, Smalling, Vidic, Carrick, Young, Welbeck, Valencia, Fellaini. Subs: Amos, Evans, Hernandez, Nani, Cleverley, Kagawa, Buttner
Referee: Howard Webb
3:22pm: Line-Ups for Cardiff and Tottenham:
Cardiff: Marshall, Theophile-Catherine, Turner, Caulker, Taylor, Gunnarsson, Bellamy, Medel, Kim, Whittingham, Campbell. Subs: Hudson, Odemwingie, Mutch, Cowie, Mason, Maynard, Lewis.
Tottenham: Lloris, Walker, Dawson, Vertonghen, Naughton, Paulinho, Dembele, Townsend, Eriksen, Sigurdsson, Soldado. Subs: Chiriches, Lamela, Holtby, Friedel, Fryers, Kane, Sandro.
Referee: Mark Clattenburg
3:19pm: Hi and welcome to the IBTimes UK live blog bringing you all the latest action from the Premier League's final fixtures of the weekend. Cardiff take on Tottenham at Cardiff City Stadium while Manchester United and Manchester City square off in the first derby under both David Moyes' and Manuel Pellegrini's reigns at their clubs. Should Tottenham win the side could go into top spot in the table while a win for United or City will see either side likely catapult on top of Chelsea and Liverpool.