Manchester United manager Sir Alex Ferguson is said to be ready to turn his attention to another Spanish goalkeeper after deciding that he needs to replace David de Gea at the end of the season.
The Telegraph has reported that the Scot has grown impatient with the Spaniard's inability to deal with balls into the box, and despite recognising his ability as a superb shot stopper, he is concerned at his lack of progress.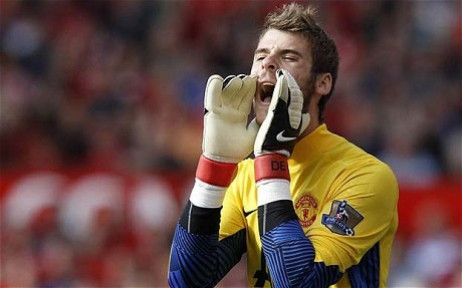 The 22-year-old arrived with a reputation as being one of the best young goalkeepers on the international stage after excelling with Atletico Madrid. While playing in La Liga he built a solid reputation and was viewed as the man to eventually become the number one for his country.
However, despite working closely with Manchester United goalkeeping coach Eric Steele, he has failed to build his physique and there is a concern that he cannot command his area in the same way that Edwin van der Sar did while excelling at old Trafford.
There is a still a belief that De Gea will develop into a world class stopper but United may want a more experienced player to arrive in the summer as they also have questions over whether Anders Lindegaard is good enough at the very top level.
The Danish keeper had a poor game when Manchester United secured a 4-3 win over Reading last month and Ferguson is now unwilling to play him in the biggest games. That means De Gea will remain the number one for the rest of the season but it may be addressed in the summer.
A report in the Telegraph states that Ferguson may now turn his attention to two more experienced Spanish goalkeepers in Real Madrid star Iker Casillas and Barcelona ace Victor Valdes.
Ferguson seemingly wants a tried and tested keeper to arrive and he could do far worse than either of the Spaniards. While it had seemed unlikely that either would consider leaving, events in recent weeks have led to speculation that both could be convinced to move on in the summer.
Valdes has told Barcelona that he will not sign a new contract with the club and is expected to leave when his deal expires in 18 months time. However, the chance to play for Manchester United next season could be enough to persuade the Spanish number two to make the move 12 months early.
There is also a belief that Casillas may consider leaving the Bernebeu after Jose Mourinho took the decision to drop the 31-year-old from the first team.
Another possible deal that could transpire is that De Gea has actually been linked with both Barcelona and Real Madrid as his reputation in Spain is untarnished.
Therefore United may look to use this to their advantage at the end of the season to see if the young goalkeeper could be used as a makeweight in a deal for one of his fellow countrymen.