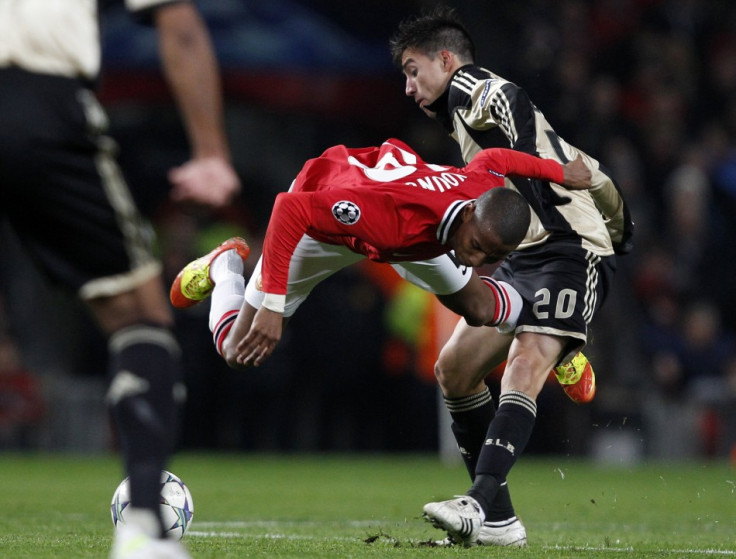 Manchester United have drafted in the agent that brokered deals for Cristiano Ronaldo, Nani, and David De Gea in order to push through a transfer for Benfica talisman Nicolás Gaitán.
Jorge Mendes is a trusted confidant of Manchester United boss Sir Alex Ferguson having worked closely with the Premier League giants for a number of years and it is hoped the Portuguese super-agent can swiftly formalise a deal for the diminutive Argentine.
According to the Daily Mail, the 23-year-old has emerged as one of Manchester United's top summer targets as Ferguson bids to address his alleged midfield weakness. Gaitán played a leading role in Benfica's qualification to the Champions League knockout stages and caught the eye in both matches against his apparent suitors.
Nicolás Gaitán's agent, Jose Irribaran, confirmed on Monday that informal discussions between Manchester United and Benfica have taken place over a proposed £29.3 million. Mendes is believed to have played a fundamental role in negotiating the Argentine's price which represents a significant reduction from his £38 million release clause.
The lofty valuation of the player is not only recognition of his burgeoning talent but also because Benfica are obliged to pay Boca Juniors 20 per cent of any sell-on to Manchester United. Additionally, part of any fee garnered from United is required to go to the Benfica Star Fund, because Gaitán is effectively part owned by the Portuguese giants.
The aforementioned source intimates Mendes has been central in the process of concluding the complicated negotiations between Manchester United and their Portuguese counterparts and a deal to take Gaitán to Old Trafford at the end of the season appears very likely.
Gaitan's representative, Jose Irribaran, told Antena: "I have not received any contact from (Manchester) United but there have been conversations between the two clubs. If these talks progress, then we will get our time to speak."
Having initially struggled to establish himself in central midfield following his £7 million move for Boca Juniors to Benfica, the 23-year-old Manchester United target was moved to the flank and subsequently earned the nickname 'El Zurdo', or 'the left hander'. He has been central to Benfica's recent success and has earned covetous glances from Real Madrid.
Manchester United have reportedly been impressed with Gaitán's trickery but it is his insatiable work ethic, that is abundantly evident in his compatriots Sergio Aguero and Carlos Tevez (prior to his well-documented hiatus), that has heightened the club's desire to sign the attacking midfielder.