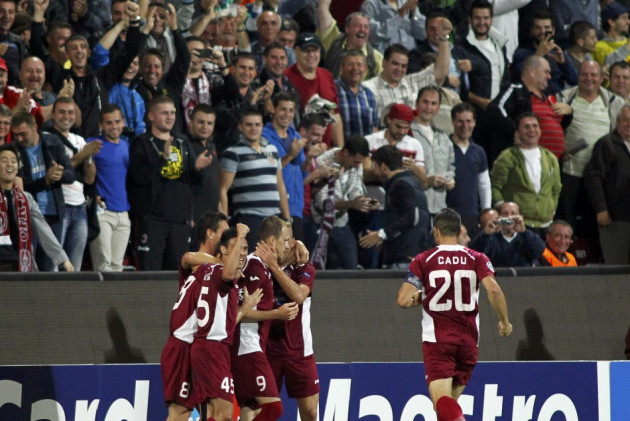 Manchester United striker Wayne Rooney has cautioned the Red Devils against conceding early goals. The Old Trafford side went behind to a 14th minute strike by Pantelis Kapetanos in their Champions League game against Cluj, only days after conceding twice in the first half hour against Tottenham.
Sir Alex Ferguson's side managed to hit back through Dutch striker Robin van Persie's brace to take all three points in the game against the Romanians but despite a spirited comeback and goals from Nani and Shinji Kagawa, they slumped to a 2-3 defeat against Spurs.
"It does bother us having to come from behind because we are losing those early goals. It is not nice and it is something that we have to stop because we cannot afford to keep letting teams get a head start on us, especially in the Champions League because it is difficult to win the game anyway," the England international said after the game against Cluj, adding, "We have to make sure we are more solid and hopefully we can be in future games."
Kapetanos' goal in Romania was the fifth time this season (in nine games) United have conceded an early goal. Fortunately for them, they've managed to fight back and win four of them... but this can obviously not continue and it is something Rooney and French left back Patrice Evra have stressed.
United will now travel to Newcastle on Sunday, in a rematch of the Capital One Cup tie from last week, which they won 2-1. Unfortunately for Ferguson, his last league visit to the Sports Direct Arena was a crushing 0-3 defeat.
"The result against Cluj is a confidence booster ahead of Newcastle on Sunday because last season up there was a disaster," the 31 year old explained, adding, "We played very badly but this year is going to be very important because we have already lost against Tottenham and we have to react. We don't want another wake-up call. We have to score first and make sure we control the game."
Manchester United are third in the league, with 12 points from six games. However, there is already a four point lead opening up to Chelsea at the top of the table. Newcastle, meanwhile, are 10th, with nine points from six games and are going through a bit of a slump.