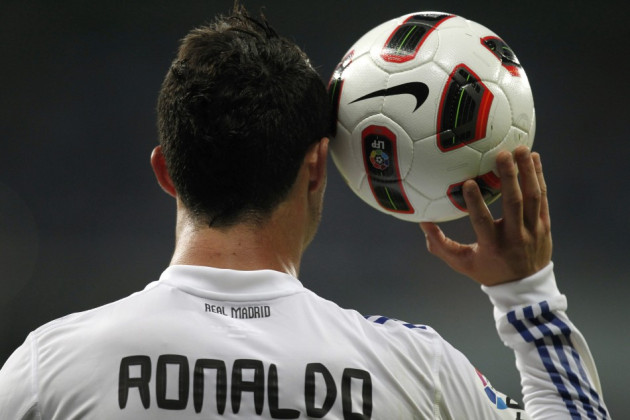 Cristiano Ronaldo has not ruled out a return to the Premier League but insists he is currently happy with life at Real Madrid.
The 26-year-old's global reputation was enhanced during his six-year stay in Manchester, winning three Premier League titles, the FA Cup and the Champions League before moving to Real Madrid in 2009 for a world record £80m.
Nevertheless, the Portugal international hinted at a return to England in the future during a recent interview with Sky Sports News.
"I don't close the door, so maybe in the future I hope so, because I know the league, I know the players, I know the atmosphere.
"Why not? I hope so one day, but you never know. The team that I like more in England is Manchester but I cannot say that I am going to play there one day because I am very, very happy in Madrid.
"I've said a few times that, if Madrid want, I can sign for ten years more until the finish of my career but nobody knows the future. I cannot lie to you and say I will stay here ten years, that I am not going to come back to Manchester. It is not fair on my part. Let's see what future God has prepared for me."
He also paid tribute to the mentoring role United manager Sir Alex Ferguson played in his early career and said he still talks regularly with the Scot.
"I said a few times that to play for Real Madrid was my dream - as it was for Manchester too," he said. "For me they are the best clubs in the world, apart from maybe Barcelona, Chelsea, Arsenal, Milan.
"I'm really happy with what I did in Manchester because I don't forget the six years that I passed there. I have a lot of friends there. Sir Alex Ferguson is my second dad - he helped me a lot to improve and now Mr Mourinho too because they are experienced managers who win many things, so for me they are the best coaches.
"I have good memories from Manchester and when I watch sometimes the games I miss it a lot because it's part of me I left in England. Just because I play in Madrid I'm not going to miss speaking with the old guys so, when I have an opportunity, I speak with Sir Alex Ferguson.
"It was important for me when I played there, when my life was there, so it is good to speak with him because I'll never forget who really helped me."