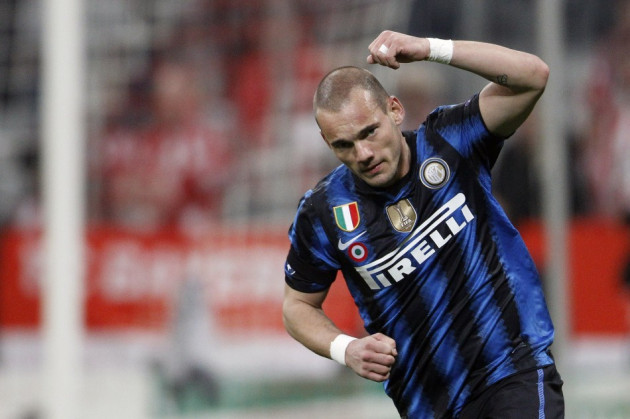 Manchester United continue to be linked with a move for Inter Milan midfielder Wesley Sneijder, after the Serie A club refused to rule out selling him.
The Dutch playmaker has been strongly linked with United since May, despite Sir Alex Ferguson saying he is not interested in the midfielder.
"We are not looking at the moment but we are looking at combinations of central midfielders now at the club," he said this week, with the club confident of identifying a long-term replacement for Paul Scholes from within the current squad.
Speaking to Sky Sports Italia after the announcement of the Serie A fixtures for next season, Inter chief executive Ernesto Paolillo reiterated that there had been no contact with United about Sneijder, but refused to say he was not for sale.
"Are Manchester United still after Sneijder? We haven't seen or heard from anyone," he said.
"Is Wesley definitely not for sale? I don't think there's anything that can't be sold, it all depends on the price.
"You never say no if a big opportunity comes your way, but it does have to be a real opportunity.
Ferguson has insisted that United will not bring in any more players this summer but earlier this week chief executive David Gill said the club will buy "at least" one more player.
Although United have also been linked with Roma midfielder Mirko Vucinic and Wolfsburg playmaker Diego, a move for Sneijder seems more likely.
"We're looking at one more player to bring in," Gill told MUTV.
"Nothing's happening - nothing imminent - on that at the moment, but we'll see what happens when we get home [from the club's U.S. tour].
"There'll be 31 days of the transfer window to see if anything develops. But I'm not working on anything at the moment, in that respect."
Meanwhile, Juventus are considering a move for United striker Dimitar Berbatov, reports suggest.
The Bianconeri were linked with Villarreal forward Giuseppe Rossi and new Manchester City signing Sergio Aguero but have now turned their attention to the Bulgaria international, according to Tuttosport.
But Berbatov's agent insists the striker is not for sale this summer.
"I don't want to comment on what the newspapers write, these are just words," Emil Dantchev is quoted as saying.
"There is only one truth: Berbatov is a Manchester United player...and he will not leave before the end of his contract. I repeat: Berbatov will stay at Manchester."