Just two weeks ago Manchester United were struggling to break down a dogged Southampton defence as they found themselves trailing 2-1 with just thirty minutes remaining in the game.
With a lack of creativity from midfield, Sir Alex Ferguson decided to introduce his most trusted and reliable performer, Paul Scholes. The 37-year-old had an immediate impact as he dictated play and helped United recover to seal a 3-2 win.
Despite a hat-trick from summer signing Robin van Persie, it was Scholes that took the plaudits as the Dutch international made it clear that it was the introduction of the pass master which changed the game.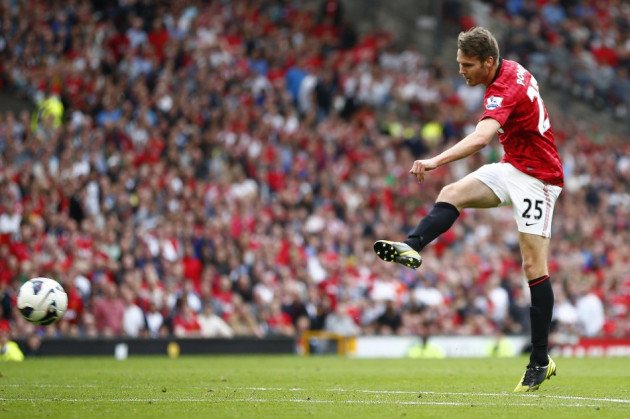 "I have to say a big thank-you to Paul Scholes, when he came on everything started ticking. Every single pass he hit was the right one. Everyone felt that, I certainly did," said Van Persie. "He hit a couple of unbelievable passes over 30 metres. With him you are always on your toes because anything can happen with his qualities. For me, he is the man of the match."
After the international break Ferguson's side were back in action and Scholes was returned to the starting line-up for his 700th appearance for Manchester United. The veteran predictably marked it with his 155th goal in a career which has spanned some 19 years.
But soon the unenviable task of replacing the raven-haired midfielder must be fulfilled. Fortunately, it seems Ferguson already has someone in mind to do the job. Even better for United fans, he is already at the club.
"[Nick] Powell is going to be a really good player who, we hope, will fill Paul Scholes's boots in terms of he's got terrific vision, good temperament, two great feet, is quick and is a great striker of the ball," Ferguson told MUTV.
It seems Powell, who moved from Crewe in the summer, is the man that has been earmarked to fill the sizeable boots that will be left behind when Scholes calls time on his career. The 18-year-old was making his competitive debut against Wigan and marked the occasion with a goal.
It was almost 18 years to the day since Scholes had made his first league appearance for United on 24 September 1994, and of course he marked the occasion with a goal. Powell would have been just six months old, but he now finds himself learning from the master as he prepares to become his successor.
There are obvious comparisons to make between the two. Powell has already demonstrated his clean striking and ability to play exquisite long range passes. His 17 goals in 55 appearances also show he has an eye for goal, with his superb volley in the play-off final last season showcasing his flawless technique.
Unlike Scholes he has a more commanding presence. At 6ft and physically powerful, he cuts a figure more like that of Steven Gerrard.
On Saturday he admitted to feeling nervous but with so much experience around him, he certainly has some superb role models.
"When I first came on it scared me a little bit, to be fair, because I'm only used to 5,000 people now and then, but it's a great atmosphere - the fans are great. It wasn't the hardest game because they made it easier for me but I'm happy to be on the pitch getting minutes," admitted Powell.
"I learn every day, especially from the midfielders - Scholes, [Michael] Carrick, Giggsy - they're all great, they've all been through it and won trophies. That's what I want to do, so I hope to learn off them every day."
If Powell can soak up the knowledge imparted on him by these experienced midfielders, then there is no reason why his career will not take a similar path to that of Scholes.