Manchester United defender Phil Jones is desperate to increase his potency in front of goal as he aims to live up to his manager's grand ambitions for him.
Following United's 20th league title success eight days ago, Sir Alex Ferguson singled out the England international for particularly high praise, suggesting he can go on to become the club's greatest ever player.
One of the more immediate facets of his game Jones needs to work on his finishing. The versatile 21-year-old was guilty of missing two good chances on Sunday against Arsenal, while being deployed in a central midfield role, and he understands the need to improve that element of his game.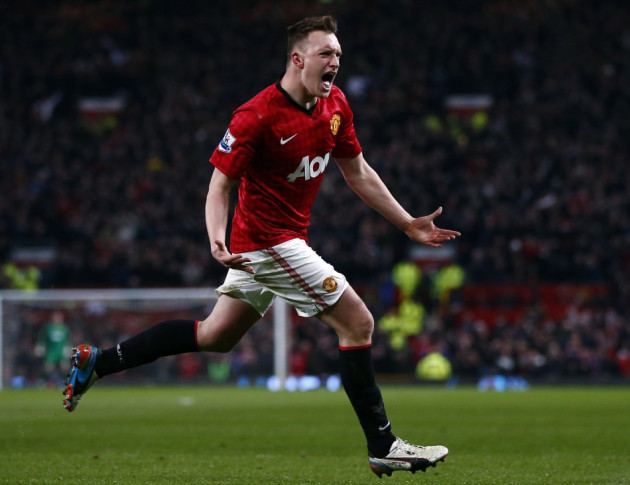 "Goal scoring is something I need to work on. On Sunday the first chance was easier, I think I should have put that one away," Jones told the Manchester Evening News.
"The second chance was a bit more difficult. If it had been in the more air for a couple more seconds, I might have got on the end of it with a cleaner connection."
Despite van Persie's impressive tally of 29 goals in all competitions, the goals have still been shared around the United dressing room this season, with the club boasting 19 different goal scorers.
Jones, along with Chris Smalling and Ashley Young are the only members of the first team squad to pick up the dubious honours of a goalless campaign, something the former Blackburn Rovers player is determined to rectify.
"I want to add goal scoring to my game. Scoring goals is probably something I need to work on. Hopefully, I can get one before the end of the season."
Although Sunday's draw with Arsenal means that United can no longer beat the Premier League record points haul - achieved by Chelsea in 2005 - Jones has dismissed the claim that some of United's squad are already thinking about their summer holidays.
"We haven't taken our foot off the pedal," Jones continued. "We had the celebrations on Monday night and we were back in the swing of things on Tuesday and Wednesday.
"All week we were preparing for the Arsenal game and it was a big game. I was pleased with the point in the end."