Manchester United's "typical" late victory over Blackburn Rovers on Monday allowed commentators and journalists alike to trot out that well-worn cliché: the defending champions always score late-on. But how true is the notion that United have a habit of finding the net in the last minutes of crucial fixtures? Unsurprisingly, there appears to be significant evidence to back up this old chestnut.
Sir Alex Ferguson's side looked set to drop two points in the Premier League title race at Ewood Park, as they struggled to break down a dogged Blackburn side. But goals from Antonio Valencia and Ashley Young in the final 10 minutes saw them extend their lead at the top of the table to five points.
"We always had them under the cosh, we just had to be careful of the counter-attack," Ferguson said. "It was a long night. We had to persevere and in the end we got our rewards for it.
"The goal by Valencia, coming so late in the game, was obviously important. It typifies the history of our club.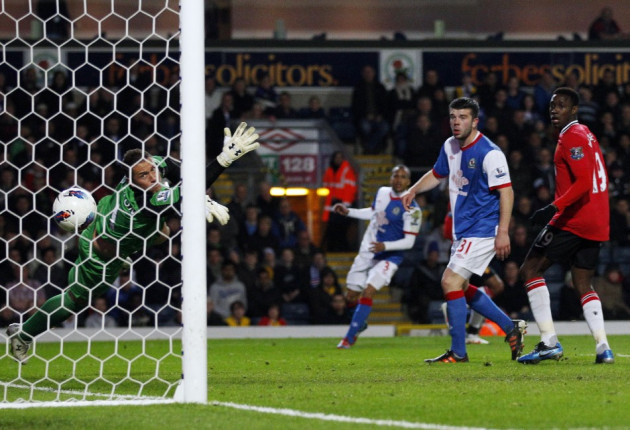 The startling frequency with which Manchester United have secured results in the last 10-minutes has almost become a self-fulfilling prophecy in the past 15 years. Not to mention it would be like writing about Sir Alex Ferguson and not mentioning the proverbial hairdryer, or to talk about another Ryan Giggs goal and not add "rolls back the years" or "like a fine wine" afterwards. But how do United compare in terms of late-goals against other Premier League sides over the last decade?
There have been hundreds in Ferguson's 25 years at Old Trafford. From Steve Bruce's header against Sheffield Wednesday in 1993, to John O'Shea's strike at Anfield in 2007, every season seems to feature one such defining moment for United. One late goal that turns the outcome of the Premier League title in their favour.
And the statistics bear out this fact. According to Castrol EDGE Performance data, Manchester United are second only to Arsenal in the total number of goals scored in the last 10 minutes. The figures, which date from the 2002/03 season until the present day give credence to Ferguson's suggestion that late goals, such as those on Monday night, are indeed a defining feature of their record 12 Premier League titles.
In terms of the proportion of goals scored in the final 10 minutes, Manchester United are behind nine other teams, including such Premier League luminaries as Reading, Burnley and Southampton. But these figures distort the fact that such teams were only in the league for a handful of seasons. Indeed, taken in comparison to those sides who have featured in all ten seasons of the data set, United trail only Everton and Arsenal in terms of the percentage of total goals scored after 80 minutes.
And Monday's result could prove to be another pivotal turning point for United, as they seek their 20th league title. They have now won 10 out of their last 11 games and could stretch their lead to eight points with victory over QPR next Sunday, with Manchester City set to face Arsenal later that day. But Ferguson refused to speculate about upcoming fixtures and insists there could still be further twists in the title race.
"There are seven games left and my experience is that it doesn't matter what points you have, it's just about the next game. It doesn't matter if it is next Sunday, next Wednesday, the Sunday after that - they are all big ones," Ferguson said.
"The players are prepared for that. We will fight right to the end in all the games for the right to win the matches."
One thing is for certain, those late goals have certainly helped overhaul Manchester City's goal difference. United have now scored one more goal than their city rivals and have cut their overall goal difference to just one, having trailed Roberto Mancini's side by 17 at one point in the season.