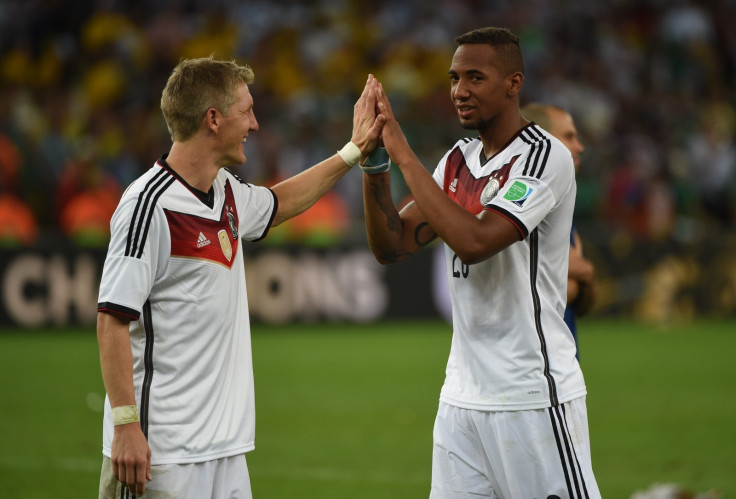 Bayern Munich defender Jerome Boateng has warned former teammate Bastian Schweinsteiger that he must be prepared for the challenges that lay ahead in the Premier League following his transfer to Manchester United.
Germany captain Schweinsteiger formally ended his 17-year association with Bayern on 13 July, signing a three-year deal at Old Trafford and joining Memphis Depay, Torino full-back Matteo Darmian and former Southampton midfielder Morgan Schneiderlin as one of four new signings made by Ed Woodward and Louis van Gaal so far this summer.
The 30 year old's vast wealth of top-level experience and his lofty reputation in comparison to lesser midfield options deployed by United over recent years has left supporters expressing great excitement over the deal, although former Manchester City defender Boateng claims his compatriot will need to adapt to the fast pace of English football in order to be successful.
"Referees will whistle not every foul, almost no fouls to be precise," he was quoted as saying by The Guardian. "The game will be faster. Basti has to adapt, but he has the qualities, he will succeed. And he has the personality to influence a match very much."
While Boateng believes Schweinsteiger will have to quickly get to grips with a different style of play, he claims the whole experience of playing for United will be a positive one and that he will receive plenty of strong support along the way.
"It will be a little bit harder. He has to be prepared for that. The English supporters are really fair, they will give a nice welcome. I hope it will be a great experience for him and he will grow."
Schweinsteiger's arrival – worth in the region of £14m ($21.9m) according to The Telegraph – certainly adds significant strength to Van Gaal's midfield ahead of the 2015/16 Premier League campaign.
Yet for Bayern, the move leaves a lingering sense of disappointment at the loss of an accomplished and celebrated talent who became a firm favourite at the Allianz Arena after winning eight Bundesliga titles, seven DFB Pokal trophies and one Champions League during his lengthy tenure.
Indeed, such is the player's standing at the club that former manager Ottmar Hitzfeld believes it is a possibility that the number 31 shirt could even be effectively retired by Bayern as mark of respect and gratitude at his considerable achievements.
"Bastian's No. 31 actually now belongs in the archives," the retired 66 year old, whose first stint at Bayern lasted six years before he returned for a second spell in charge in 2004, told SportBild as reported by ESPN.
"I'm sure it won't be given to anyone else in the short-term. This number will always stand for him – it's possible it will never again be assigned to another player."
Schweinsteiger, along with United's other new signings and the in-demand David de Gea, flew to the US earlier this week as part of a 26-man squad set to contest the US edition of the International Champions Cup tournament.
Van Gaal's side beat Roma, Real Madrid and rivals Liverpool on their way to winning the annual pre-season competition a year ago, and this year face the likes of Club America, the San Jose Earthquakes, Barcelona and Paris Saint-Germain in a bid to retain their crown.
Second-choice goalkeeper Victor Valdes and Brazilian right-back Rafael were both left out of the travelling party, however, further fuelling rumours that the duo will be allowed to leave United during the current transfer window.