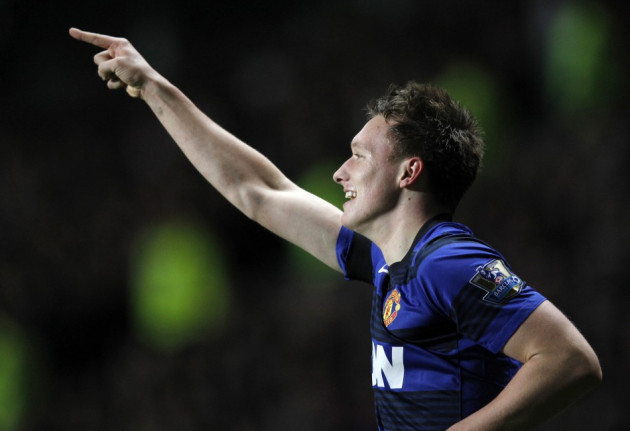 Phil Jones has said he is happy to be used as Manchester United's utility man if it ensures their winning run continues.
Jones, 19, notched his first goal for the club in Saturday's 1-0 win at Aston Villa and impressed in a holding midfield role.
The Manchester United defender has produced a string of stand-out performances in defence and midfield since being signed from Blackburn Rovers in the summer.
"I enjoy playing anywhere, I enjoy playing football, so wherever I am asked to play I will play," he told the Manchester Evening News. "If the manager asks me to play right-back, centre-back or midfield, I will go and do a job there.
"I don't think it really matters at the moment that I am cementing a spot in a certain position because I am still young. Hopefully, as my career progresses that will happen."
Sir Alex Ferguson is expected to deploy Jones in midfield for Manchester United's crucial Champions league tie away to Basel on Wednesday.
United need to avoid defeat in Switzerland to reach the knock-out stages and Ferguson has a surfeit of fit midfielders to call on.
With Michael Carrick suspended and Anderson and Tom Cleverly injured, Jones is likely to retain his place in central midfield.
"Phil's a natural centre-back, but the boy is so versatile we can play him in midfield too," said Ferguson.
"We have not got Michael Carrick on Wednesday in the Champions League because he is suspended, so we wanted to have another look at Phil.
"We're going to have to perform. It will not be an easy game, although over the last four years our form away from home in Europe has been fantastic."