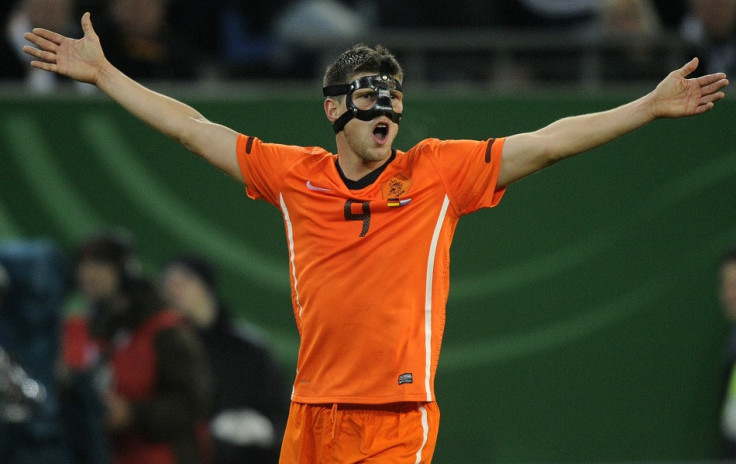 Klaas-Jan Huntelaar believes that Schalke might be capable of winning the Bundeslgia title this season, with the Manchester United target holding high hopes for his side in the German league this season with their current standing in the table.
Schalke are third on the Bundesliga table, level on points with Borussia Dortmund and just one game behind Bayern Munich.
But Huntelaar believes that despite Dortmund and Munich being favourites to fight it out for top spot as the season enters the business end, the striker believes that his side can show up the giants much in the same way that Tottenham are standing up to the Manchester clubs in England.
"Of course we can be champions," Huntelaar told sports magazine Kicker.
"We are level on points with Dortmund and only three behind Bayern Munich. That shows we have regularly been piling up points away and if we go on in this vein we have a chance."
Huntelaar was connected on numerous occasions to Manchester United before he moved to Schalke from AC Milan in 2010. After his form has shone for the German side, he has been linked to the English giants once more, and the 28 year old acknowledged in December that while he was unaware of any official interest, if Schalke wanted to sell he would consider a move.
"I know nothing of alleged interest from Manchester United," he said last month. "I will not even speculate, I am concentrating fully on Schalke.
"I'll let any offers come to me quietly and will then see what happens. This is the attitude I've always had.
"My contract runs until the summer of 2013. If they [Schalke] want to talk, I'll gladly listen."
With his contract running out in the next 18 months, the hit man will no doubt be a highly coveted target in the summer.
And though Manchester United have exercised Dimitar Berbatov's contract extension, keeping the striker with the club until 2013, if the Bulgaria international continues to get limited game time for the side, Ferguson may need a new striker in that time to keep depth within the squad.
And with United scouts being spotted watching Huntelaar on numerous occasions, it would seem that the star is a definite long-term target for Ferguson.
Highlights from Huntelaar this season: