Barcelona have reportedly made Thiago Alcantara available this summer for €25m, news which is likely to reignite Manchester United's interest in the midfielder.
United have been keen on signing the 22-year-old ever since the Brazilian-born midfielder was brought into Barcelona's first team by Pep Guardiola three years ago, having sounded out the possibility of signing him in the past only to have their efforts knocked back by the Catalan giants.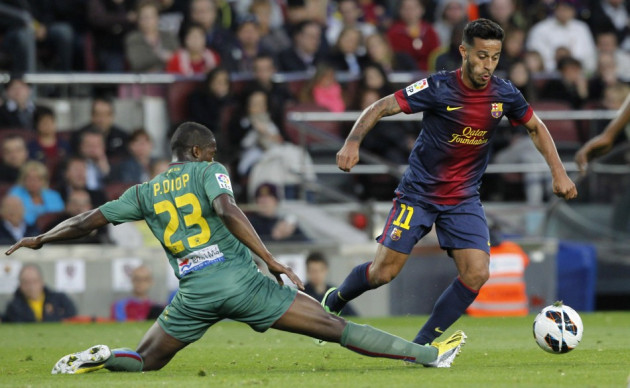 But the Premier League champions may choose to renew their interest in the player should he become available this summer, as El Mundo Deportivo suggest.
Earlier this year Alcantara's father claimed that his son may have to look for another club in order to boost his 2014 World Cup aspirations, a situation which may increase in likelihood should the midfielder feel he is being marginalised.
With the peerless combination of Xani and Iniesta still asserting itself in the heart of Barca's midfield with Cesc Fabregas also on the scene, Alcantara's hopes of gaining a permanent role in Tito Vilanova's first team are likely to remain uncertain.
Despite their La Liga success, Barca's defensive frailties that were brutally exposed by Bayern Munich in the Champions League leaves them in need for a summer of recruitment.
The club will look to cash in on David Villa, Victor Valdes and Alexis Sanchez to generate the funds needed to address those concerns. Alcantara is another name reportedly on that list.
Alcantara's availability is likely to attract the interest of the Premier League champions. Following the retirement of Paul Scholes, United are now more than ever in the market for a midfielder blessed with the metronomic passing ability the 38-year-old brought to the midfield.
With Anderson's future at Old Trafford also uncertain, David Moyes may find one of his first jobs at Old Trafford to strengthen his midfield options.
United reportedly made a "substantial" offer for Alcantara in the summer of 2011 before he committed himself to a four year contract at the Nou Camp, which included a €90m release clause. However, it is suggested that the La Liga champions will be willing to part with the midfielder for far less than that.