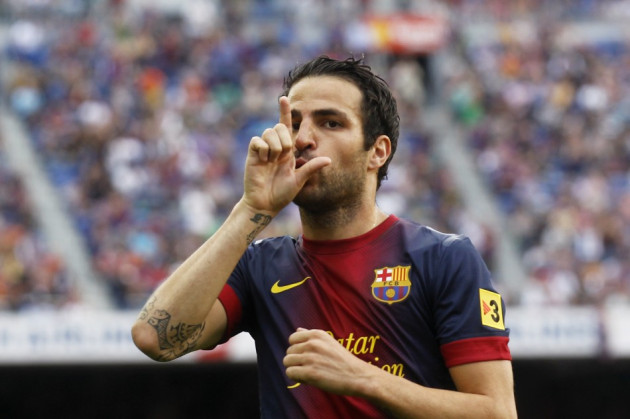 Former Manchester United midfielder Paul Scholes believes Cesc Fabregas would be a "dream" signing for the Premier League champions as the Spanish international continues to refuse to publically declare his intentions.
United confirmed that talks have been ongoing with Barcelona regarding Fabregas despite the Catalans continually insisting that the ex-Arsenal midfielder is not for sale at any price.
David Moyes admitted over the weekend that the club may turn their attention elsewhere after weeks of negotiations with the La Liga champions but Marca reports that Barcelona are anxiously awaiting Fabregas' return to training this week so the 26 year old can settle his future.
Many Spanish journalists and sources have claimed that a move to United would be highly unlikely for Fabregas, despite the star feeling uncertain over how he will be included in incoming manager Gerardo Martino's plans next season.
But United have been a lot clearer in their plans for Fabregas, with Scholes insisting that bringing in a player of his calibre to the club would be a dream.
"I think that there are a lot of players at United who have left United are never really missed because the club always seem to kick on," he told the Daily Mail.
"Cesc Fabregas is a top, top player, he has been with Arsenal, he knows the Premiership and it would be a dream really to sign somebody like that. He is a player who can score goals and has set them up for Robin van Persie. That would be nice and hopefully we can do it."
United have been somewhat uncharacteristic in their public courting of Fabregas, with former manager Sir Alex Ferguson previously only admitting to interest in a player when a deal has been completed.
The tactics being deployed by the Manchester club could well be to show Fabregas just how important he would be to their set-up in the coming seasons and for now his silence is giving United fans hope that he could yet be a coup for the new manager.