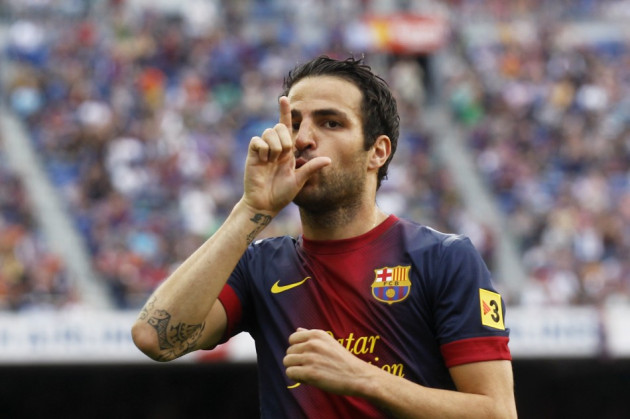 Manchester United are not giving up in their pursuit of Cesc Fabregas, with the side reportedly going to great lengths in order to seal a deal for the midfielder.
David Moyes will be well aware of the desperation to fill a hole in the midfield area for the Red Devils this summer which was existent while Paul Scholes was playing for the side and will be even bigger now that the club legend has retired for what looks to be the final time.
While the side had been pursuing Thiago Alcantara, the young midfielder chose a move to Bayern Munich instead. Moyes was believed to be slightly unsure of how the Spain international could perform in the Premier League but with Fabregas he is far more confident in the star's performances.
Though United were rebuffed by Barcelona in their £25m bid for Fabgreas, with Tito Vilanova claiming the 26 year old wants to stay at Barcelona, the Daily Mail is reporting that executive vice chairman Ed Woodward has made a mad dash from the side's pre-season tour to try and push the deal through.
Sources have reportedly said that Fabregas would privately prefer a move to United but Barcelona will have to be offered an amount that will tempt them into parting with a player who they worked so hard to purchase from Arsenal only two summers ago.
Fabrgeas has not suffered from a lack of starts at Barcelona, but he featured in a full 90 minutes for the side less than 20 times over the 2012/13 campaign.
United have been caught up in dealing with Wayne Rooney, with Chelsea confirming yesterday that they had submitted a bid for the striker and have made him their top summer transfer target.
And when Woodward cut his time in Australia with the club short, it was immediately assumed that it would be to work out the situation surrounding Rooney, who is back in England recovering from a hamstring injury.
But now it appears that he is back on these shores to push for players to come to the club rather than leaving.