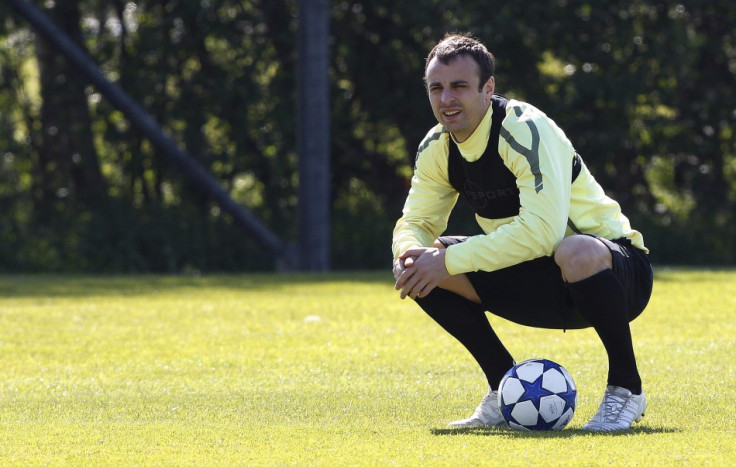 Carlo Ancelotti has revealed that Dimitar Berbatov has been offered for sale by his agent this January, with the Manchester United striker reportedly considering going somewhere where he can receive more game time.
Ancelotti gave a particularly revealing interview to Italian paper Gazzetta dello Sport, in which the former Chelsea manager admitted a host of Premier League players are on the market, and have been offered to him since he took over the managerial reigns at Paris Saint Germain.
And Berbatov, who has been rumoured to be unhappy at United for some time after being left on the bench in favour of Javier Hernandez and Danny Welbeck, is available to talk to clubs, according to Ancelotti.
"There is a lot of choice for this January market," he said in the interview.
"Do you want the names? Ok, now I tell you the players the agents are offering on the market, officially or not: [Carlos] Tevez, [Fernando] Torres, [Dimitar] Berbatov, [Roman] Pavlyuchenko, [Edinson] Cavani, [Fernando] Llorente."
Edinson Cavani is reportedly a target for United as well, with the Napoli striker currently in demand with multiple clubs around Europe.
Berbatov's current contract with United runs out in the summer, but Sir Alex Ferguson has the ability to extend the agreement by a year. The manager insisted at the end of 2011 that he would do so, telling reporters: "We'll be exercising [the option to renew Berbatov's contract]. I think it kicks in in March."
But that hasn't stopped transfer speculation surrounding the Bulgaria international's possible exit from United, with numerous German clubs being linked to Berbatov. And the possibility of a move to PSG will be considered by Ancelotti, who knows from first-hand experience in opposition how lethal Berbatov's touch can be.
In other snippets from the interview, Ancelotti revealed he was hoping to take either the Tottenham or Arsenal managerial jobs, but "was tired of not doing anything, and the goodness of PSG's offer quickly found fertile ground."
He was respectful towards his successor at Chelsea, Andre Villas-Boas, admitting that the situation with Fernando Torres is a particularly difficult one for the London club as the striker continues to suffer from lacklustre form.
"Villas Boas? I don't judge his work. I believe coaching Chelsea in a generational turnover is difficult," he explained.
"If you decide to invest on Torres, you have to sell Drogba. He's like [Filippo] Inzaghi, he tends to devour whoever competes with him. He's not bad, but this is his personality."