Manchester United striker Javier Hernandez is not planning to leave the club this summer, according to his father - who says the Mexico international is planning to stay for the duration of his contract at the very least.
Hernandez wasn't included in the squad for last night's season opener with Everton, with Sir Alex Ferguson choosing instead to include extra defenders on the bench.
But the fact that he also included Dimitar Berbatov - who is poised to leave United in the coming weeks - among the substitutes, ahead of Hernandez, has fuelled rumours that the man nicknamed Chicharito might leave Old Trafford for a club which can offer more game time.
The 24-year-old scored 23 goals in an outstanding first season at Old Trafford, but injury allowed Danny Welbeck to put pressure on his place last season, and he became more of a substitute than a starter for Ferguson.
Despite Robin Van Persie now offering even greater attacking options for United's Scottish manager, Javier Hernandez Snr insists his son isn't planning on making a move away from the English giants.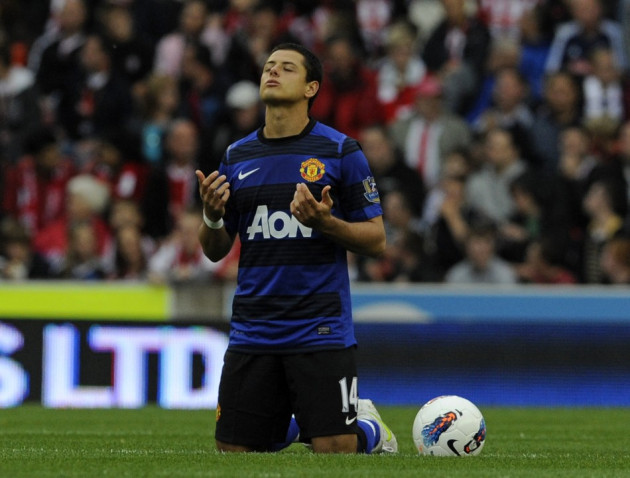 "That's all speculation of the press. Chicharito has a contract with Manchester United, and he wants to see that out," he told English newspaper Metro.
Ferguson himself admitted after last night's loss to Everton that United had been lacking in firepower, with van Persie failing to score after coming on as a late sub.
"It was a pretty good game and there wasn't anything between the two teams," he said.
"We were the better football team, they had eight shots on target and David de Gea did very well for us in that way. But we had the possession and made some great openings without actually finishing it.
"We were a wee bit disappointed in terms of finishing off the approach play we had. We played around Robin too much, we didn't show enough penetration and with Robin in your team you know you want to use his ability against centre-backs in situations he is very good at. We didn't use him enough."