Manchester United have stepped up interest in Southampton left-back Luke Shaw. The Mail believes the Premier League champions will rival Chelsea for the 17-year-old defender's signature, with Tottenham also believed to be in the hunt.
Incoming United manager David Moyes is a fan of the teen and has been monitoring him for a while now. It is believed Shaw was on the Scot's transfer list had Toffees' left-back Leighton Baines moved to United last summer, when the club was under Sir Alex Ferguson. The England left-back has again been linked by the Sun with a move to United, following in the footsteps of his manager, who replaces the retiring Ferguson.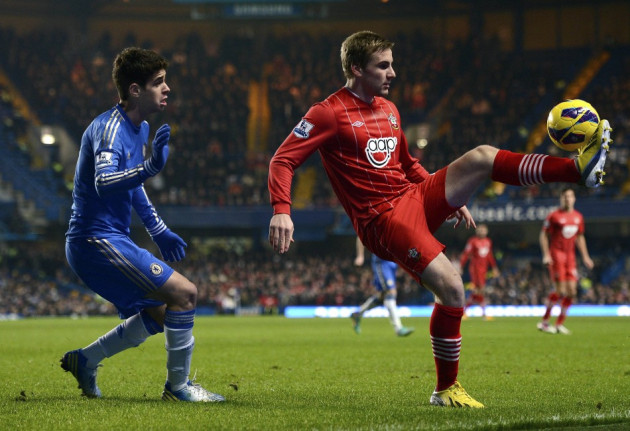 However, the Mail believes Baines is now likely to remain at Goodison Park, meaning Moyes could now turn his attention to his long-time target.
Shaw has yet to sign a professional contract with the Saints; he will do so in July, when he turns 18. He is a self-confessed Chelsea fan and Southampton are worried that if the Stamford Bridge club approaches him, he might find the offer difficult to turn down.
What could work in United and Moyes' favour is the managerial situation in west London. Chelsea have terminated Rafael Benitez's employment and although former Real Madrid coach José Mourinho has been linked with a return, Roman Abramovich has yet to confirm any such deal. Shaw needs a stable club and regular playing time to aid development and United may present a more convivial environment.
The Southampton star has made 22 Premier League starts this season, with 28 appearances in total across all competitions.
Paul Scholes on Retirement
Meanwhile, former United midfielder Paul Scholes says he is happy his second retirement from the game was overshadowed by that of Ferguson. The 38-year-old bowed out of the game on Sunday evening, after an epic 5-5 draw against West Bromwich Albion. The game was his 499th Premier League appearance.
"I was pleased to retire when I did because I was overshadowed by bigger names bowing out at the same time. I got out under the radar. I love football, have done since I first started kicking a ball as a boy. But I am not interested in the things that go with it. For me, it is about the game, the pleasure of striking a ball. It is not about having my name up in lights," he told The Times.