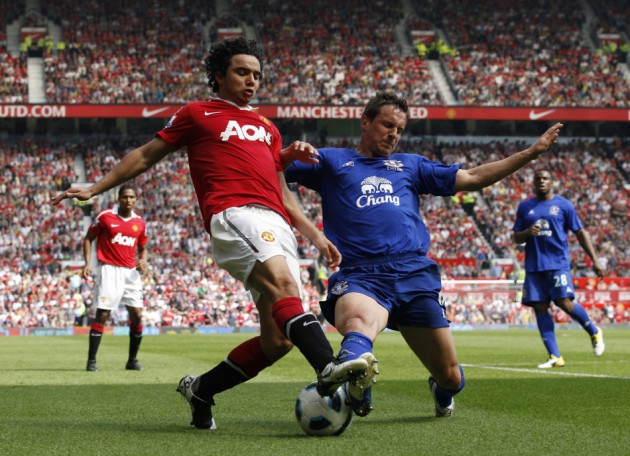 Everton defender Phil Jagielka has blamed the Manchester United board for David Moyes' initial struggles with the Red Devils.
The Champions are ninth in the league table, 12 points behind league leaders Arsenal and are ostensibly out of the title race this season. The retirement of Sir Alex Ferguson has had a startling effect on United's performance this season, who have failed to hit the ground running under Moyes and are poised for a top four fight come the end of the season.
Moyes has lost games against Liverpool, West Bromwich Albion and Manchester City while drawing against the likes of Cardiff City, Tottenham and Chelsea in the run-in.
Their only win against a top-four side has been against Arsenal at Old Trafford where Robin van Persie's header earned them three vital points. Moyes' problems were amplified against Everton as his former club came to United to secure their first win in over two decades at Old Trafford with United struggling to make a headway in the league. England defender and Moyes' favourite Jagielka believes that the same could have been avoided if the board had allowed the manager to spend freely in the summer.
Moyes had tried and failed with bids for Ander Herrera and Cesc Fabregas but had managed to sign Marouane Fellaini on deadline day from Everton, something which has not gone down as well as planned.
"I have a lot of time and a lot of respect for David Moyes. I do feel sorry for him. The fixture list wasn't that kind initially. The transfers in the summer, the people who were making those decisions didn't help him out one bit," Jagielka said.
"It is nowhere near a big problem but the pressure was always going to be high. From being at Everton, where the pressure was not so big initially, he could then grow into the season. You can't grow into the season at Manchester United. You need to come out firing on all cylinders when you look at how Arsenal have started and Chelsea and teams like that. You can't give them too much of a lead.
"He will come under pressure. But I am sure he knew that once he took the job. He wasn't going to get a quiet life at Manchester United. It was a fantastic opportunity for him. It proved what a great job he had done at Everton. I am sure he will roll his sleeves up and get the guys moving in the right direction," he concluded.