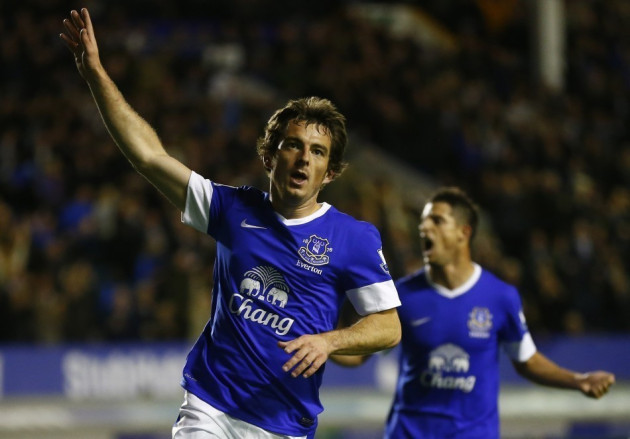 Manchester United are set to complete a deal for Leighton Baines in January, according to the Daily Mirror.
The Red Devils are in the market for a left-back and Baines has become their top priority this January with Patrice Evra set to leave the club by the end of the season. David Moyes had tried to bring in both Baines and Fellaini in a double swoop last summer but Roberto Martinez refused to part with the England international. Meanwhile, United will try their best to convince the Evertonians this time around to sanction a move in January.
United were also denied a last ditch loan move for Fabio Coentrao from Real Madrid as the paperwork failed to go through in the final minute. The England international has overtaken Ashley Cole as the first choice left-back for the Three Lions and will be a major coup for United as the 29-year-old is not cup tied with Everton and will be available for the Red Devils' European exploits should they go through.
The defending Champions have failed to push on this season, currently fifth in the league with 20 points, five points behind the Gunners who are leading the table. Their win over Arsenal last weekend ascertained that the gap between themselves and the league leaders does not boil over to 11 points, something which may have put an early end to their aspirations of a title defence this season.
Baines' arrival will also increase his chances of ousting Cole from the first team in the squad for the 2014 Fifa World Cup, with manager Roy Hodgson stating that there is nothing between the two players in terms of talent. The Three Lions suffered a 2-0 defeat at the hands of Chile at Wembley and have their next game against a talented German side who are among the favourites to win the tournament.
"I'm still very happy to consider Ashley Cole as a potential English left-back but, as you have known for some time, the competition for that spot is particularly fierce because Baines is also playing well," Hodgson said.
"I do have enormous faith in both of them. On top of that we have Kieran Gibbs and Luke Shaw.
"They are two younger players who I think can definitely put these more senior ones under some pressure I would definitely not be concerned about Gibbs or Shaw playing," he added.