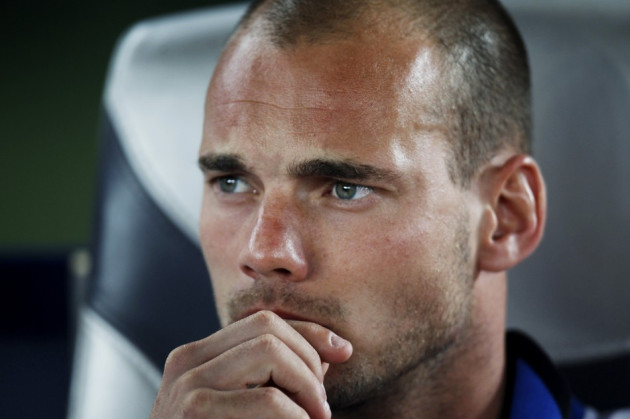 Manchester United chief executive David Gill has revealed the club are still interested in signing at least one more player before the transfer window shuts.
Earlier this week, United manager Sir Alex Ferguson suggested the club was unlikely to sign anyone before his side play Manchester City in the Community Shield on 7 August.
But Gill appeared to reverse the club's stance and, although he said no negotiations are currently on going, he hinted at future arrivals before the end of August.
"We are looking at one more player to bring in," Gill told MUTV, ahead of United's match against the MLC All-Stars on Wednesday.
"Nothing is happening and nothing is imminent but we will see what happens when we get home.
"There will still be 31 days of the transfer window to see if anything develops.
"The important point to understand, and Alex has made clear, is that we need someone who is going to improve the quality of the squad.
"We have a great squad and to get into that squad you need to be a world class player.
"If you can't get the players you want, there is no point buying someone for the sake of it. But you never know, there is often movement in August.
"I am not saying I am working on anything specific because I'm not. But that situation could change quickly when we get back to Carrington."
Gill's comments raise the prospect of a renewed attempt to sign Inter Milan midfielder Wesley Sneijder, with a long-term replacement for Paul Scholes still to be identified.
United have been heavily linked with Sneijder, Arsenal's Samir Nasri and Luka Modric of Tottenham throughout the summer.
However, Ferguson has distanced himself from a move for Sneijder, saying he "had no real interest" in the Dutch international.
"Scholes was such a great, consistent player for us. I don't think we will find another Paul Scholes," Ferguson said. "But hopefully we can replace him. Maybe we will find a different type of player. Manchester United do that.
"Time and time again we have faced this problem. But eventually something turns up, either through our youth system or we will identify someone."
A deal for Sneijder is believed to have foundered earlier in the summer over the former Real Madrid player's £250,000-a-week wage demands. Inter Milan's £35m valuation of the playmaker was also viewed as disproportionate by United, with the 27-year-old having little resale value due to his age.
Brazilian swoop
Sir Alex will continue the long-term regeneration of the current United side by targeting three promising Brazilian youngsters, reports suggest.
The Scot is interested in Flamengo attacking midfielder Adryan,16, Sao Paulo playmaker Lucas, 18, and Santos's Ganso, 20, according to unconfirmed reports.
Wagner Ribeiro, Brazil international Lucas's agent, confirmed United and Bayern Munich have enquired about the midfielder's availability in the past year.
"Lucas was approached earlier this year by Manchester United and Bayern Munich," Ribeiro told Terra.