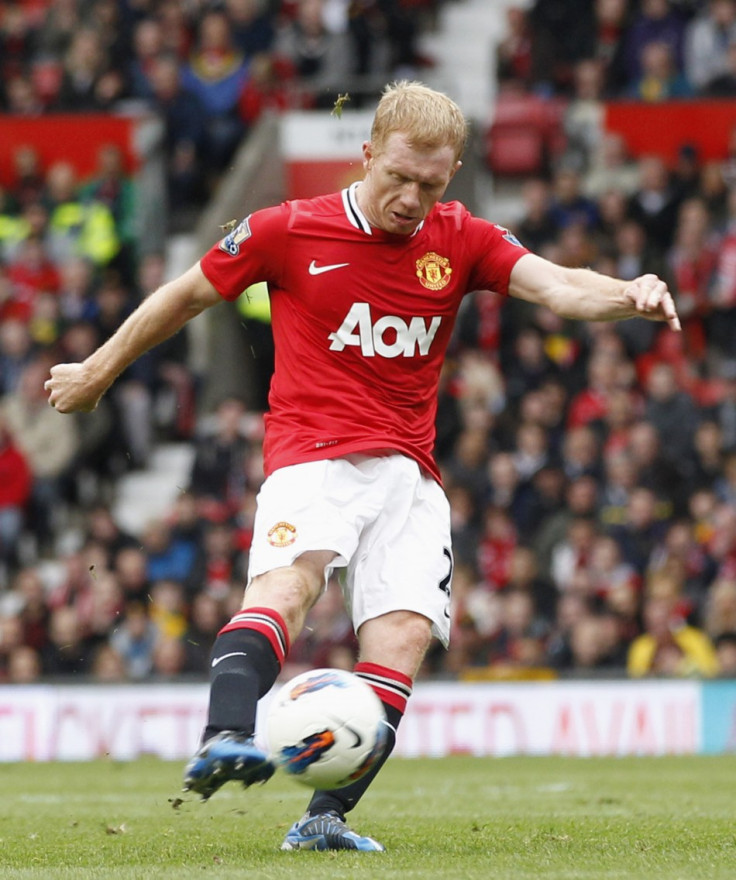 Paul Scholes, who made his debut for the Manchester United in the 1994/95 season, recently proved he is like wine - he gets better with age - one reason why United boss Sir Alex Ferguson coaxed him out of retirement earlier this year and why he has reportedly decided to extend 37-year-old's stay at Old Trafford for another year. The information comes from a goal.com report.
Scholes, who scored a brilliant goal (his side's second) on Sunday, to help the Red Devils claim all three points against QPR, showed excellent skills all around the pitch, in a performance that was praised by all in United's camp.
"That was a typical Paul Scholes goal. He has scored three since he came back into the fold and we have only dropped two points. You see the control of the game he has and the way he controlled the tempo of the game. That has never changed. At 37, he is still capable of that. He is a great player and integral to what has happened over the past few weeks," the Daily Mail quoted Ferguson as saying.
The talented midfielder is reportedly all set to accept Ferguson's offer and sign for another season at Old Trafford.
"His performances, having come straight back into the team, have been amazing. He has just carried on and I'm sure he has got a lot more games left in him yet," Goal.com quoted Scholes' team mate Michael Carrick as saying.
Scholes, who was coaching the Manchester United reserves just six months ago, had to come out of retirement owing to many injuries in the Red Devils' camp. Now he is probably the most in-form player in Manchester United and maybe all of England.
The English national side, who have been plagued with many injuries, should seriously consider selecting Scholes for the forthcoming 2012 European Championships in Ukraine and Poland, scheduled to be held in June. However, for the time being, Scholes will be concentrating on helping Manchester United win yet another Premier League title.
Meanwhile, Ferguson, on being asked about Manchester United's controversial win over QPR, said that he understood Mark Hughes' (the QPR manager) frustration when captain Shaun Derry was sent off for a foul on Ashley Young, who was already offside.
"Ashley was a yard offside so I can understand Mark being angry at that. There have been a lot of decisions like that recently. The boy has had a little tug, not a great one, but just enough to unbalance him and get us a penalty. Unfortunately, being the last defender, he had to get sent off," said Ferguson, according to The Daily Mail.