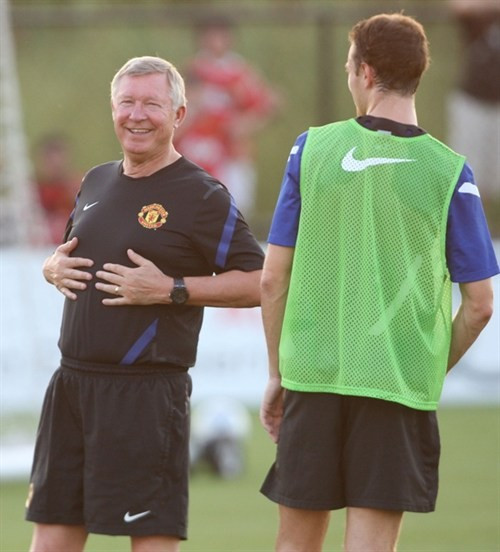 Manchester United manager Sir Alex Ferguson has spoken of his "dismay" at the riots that have torn through the streets of the UK this week. The riots that started on Saturday night in Tottenham have spread through London's boroughs as well as hitting Birmingham, Liverpool, Manchester and Nottingham.
The riots have led to Tottenham's first Premier League encounter with Everton to be postponed because much of Tottenham is a crime scene but all nine other Premier League games will go ahead as scheduled.
However, Sir Alex Ferguson has said that the riots show that football is pales into insignificance when people's lives are in danger. The Manchester United boss said the past week had been "depressing" for the entire country following the widespread unrest.
"It's been a depressing week, an absolutely depressing week. The things that are happening in our country. It would be very easy for me to say YOUR country, it doesn't happen it Scotland, but it's really depressing, Sir Alex Ferguson said.
"You know the really disturbing thing, and I've been thinking about this, saying 'what the hell's going on?' is that you have an Olympic athlete, an assistant teacher and a millionaire's daughter. Have they no pride in their upbringing? What must their grandparents think?" said the Manchester United manager.
Sir Alex Ferguson has told his players that the hard work begins on Sunday against West Brom at the Hawthorns. Manchester United's dominant display against Manchester City on Sunday, despite going 2-0 down in the first half, has led many to heightened the expectations at Old Trafford this season.
"They all knew last week was the Community Shield," said the United boss. "It was not the real stuff. That starts on Sunday. Wembley was an occasion. There was rivalry and everyone was motivated. We have to show that in every game," Ferguson told the Independent.
"It is going to be tough. It will be a hard campaign, it always is. We will waken up to the fact last week was a different game," he continued.
Ferguson is said to have an immense belief in his young squad but will not dismiss the experienced challenge of Chelsea or the abilities of Manchester City. Ferguson has also said that Darren Fletcher and Antonio Valencia will return for the reserves against Arsenal on Monday whilst Javier Hernandez is at least 10 days away from recovering from his bout of concussion suffered on Manchester United tour of the U.S.