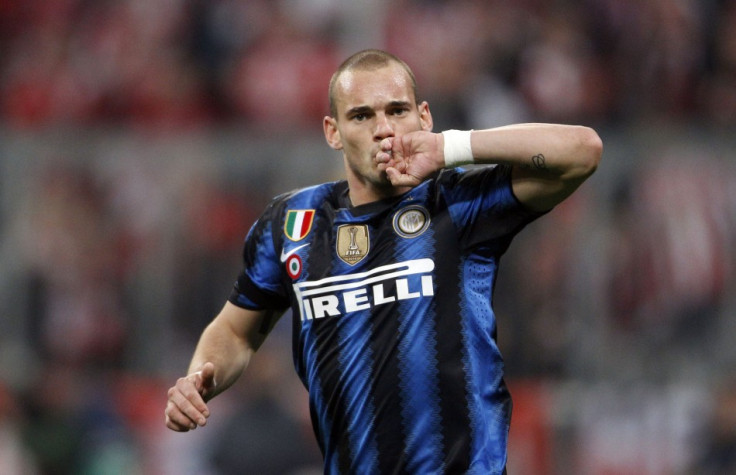 Manchester United's sensational summer spending spree is set to continue with a £35m move for Inter Milan's Wesley Sneijder. Reports in Italy have suggested that Inter Milan's President Massimo Moratti is incensed by Wesley Sneijder's refusal to commit his future to the Italian giants and now the Inter Milan President is looking to sell the midfielder to Manchester United. Quoted in Gazzetta.It Moratti said 'it was sad to hear those comments.'
Manchester United are said to be so optimistic over the Italian reports that they are willing to give up their quest to sign Tottenham's Luka Modric. Sneijder would is Manchester United's top target this summer was quoted last week as saying: "I love Inter with all my heart, but only God will decide where my future lies."
Sneijder is the player that every Manchester United fan would love to see playing at Old Trafford next season. The club were shown up in the Champions League final by Barcelona's superior creative talent in the middle of midfield, something that Sir Alex Ferguson is keen to address. Sneijder is said to favour a move to the Premier League where his dynamic style will be more suited than in the Italian Serie A.
If Sneijder is to move to Manchester United it would see no let-up in the summer transfer spree that has seen the club sign Phil Jones and be on the verge of signing Ashley Young. Reports also suggest that United are favourites to sign Udinese midfielder Alexis Sanchez. Many fans and pundits are questioning where Manchester United are getting this money from with the club so heavily in debt. It is believed to be coming from Qatari money which could signal no let-up in the summer spending spree. With huge investment behind them, Manchester United should be able to hold off both Chelsea and Manchester City in their pursuit of big name stars.