Manchester United's Record Signing Angel Di Maria Was Hoping For New Real Madrid Deal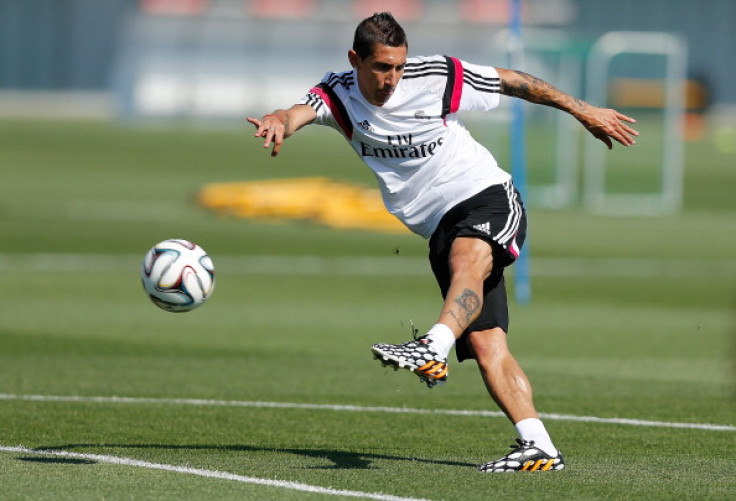 Manchester United's latest signing Angel Di Maria has revealed in an open letter that he was not hoping to leave Real Madrid after winning the Champions League last season.
The Argentine international completed a £59.7m British record transfer to Old Trafford from the Spanish capital club on Tuesday. The 26-year-old was made to look like he was holding the 10-time European winners at ransom for a new contract.
However, Di Maria has put those suggestions to bed and claimed he never asked the club for an improved offer. The former Benfica winger admitted that he was hoping to get a new deal at Real and he had asked the club regarding his extension, which he believes was a fair deal.
Di Maria now hopes to make history with his new club after completing his switch to United.
"My time at Real Madrid has come to an end. It's impossible, in just a few lines, to put all I have gained here, but this letter is my way of explaining how I'm feeling now that I'm bidding the club farewell," Di Maria told Marca.
"Over the four years I have had the honour of wearing this shirt, I have felt nothing but pride about everything that has happened and all I have achieved together with my teammates."
"Sadly, now I have to go, but I want to make it clear that this was never my wish. I've always wanted to progress, as anyone else does in their job."
"I went to the World Cup after winning the 'Decima' with the hope of getting some signal from the Club Management, but it never came. Many things were said and many lies circulated. They always wanted to pin the idea of leaving the club on me, but that's not how it was."
"Unfortunately, my football isn't to someone's taste. The only thing I asked for was a fair deal. There are many things that I value and a lot of them have nothing to do with my salary."
"I hope to find them at Manchester United, one of the biggest clubs in the world, with which I'm hoping to make history," United's latest signing stressed.
© Copyright IBTimes 2023. All rights reserved.