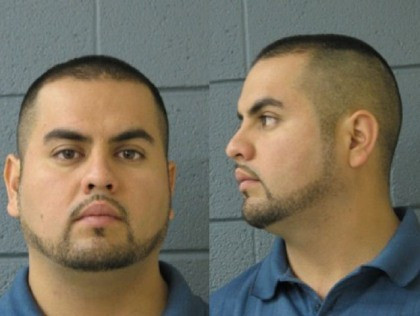 Police in the US have launched a nation-wide search for a man who they believe murdered his wife and left her body in a bath just hours after they exchanged their vows in Chicago.
Over 30 forces across the states have joined forces with the FBI to search for Arnoldo Jimenez, 30, who married Estrella Carrera in secret and then allegedly killed her.
His new wife's body was found in a bathtub in the silver sequin cocktail dress she wore at her wedding reception and possibly at the wedding itself, police said.
"We are following every lead no matter where it takes us," said Capt. Joseph Ford of the Burbank Police.
He added: "We will not stop looking, and this will not go away."
Carrera's family reported her missing after she failed to pick up her children on Saturday as arranged and they were unable to reach her on her mobile phone.
The police were asked to check on her at her home in Burbank, Chicago, which is where he body was found in the bath.
Jimenez's sister later phone the Carrera's family to say that she had spoken to her brother recently who told her that he had left his new bride bleeding after a heated argument.
"She said that he was crying and he was really nervous," said Jazmin Carrera, Estrella's older sister "He said they had a really bad fight and he had left her bleeding."
The phone call is the only evidence against Jimenez and the only thing in the case that might suggest what happened to Carrera.
Police are continuing to appeal to Jimenez to hand himself in "for the sake of his family and especially his children," they said. "I am sure they are very concerned for his well-being."
Carrera, a mother of two small children, told nearly no one about her plans to get married, inviting a few friends out Friday without telling them what she was celebrating, her relatives said. Her body was found after family members became worried they had not heard from her and called police.
Some of those familiar with the couple said there had been incidents of violence during their two years dating, Ford said. But he added that authorities haven't yet found any records indicating Carrera ever filed a complaint against Jimenez.