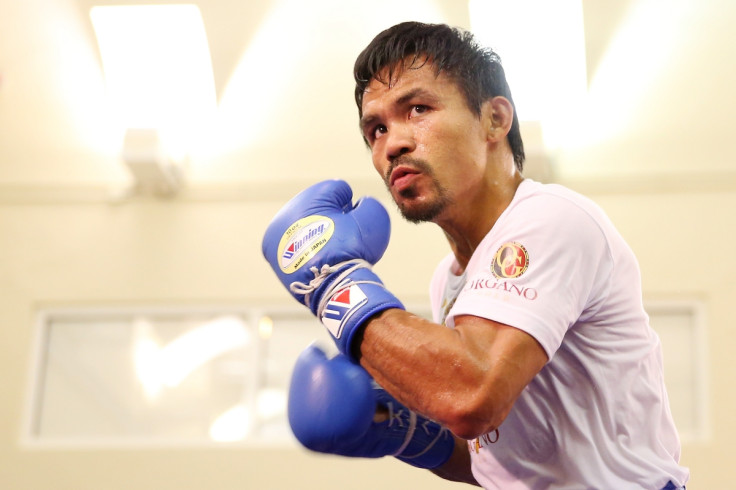 On Saturday 9 April, one of the greatest boxers of his generation will enter the ring for the final time. Such occasions in the past have been celebrated, even treated with all the fanfare of a major championship fight. As Manny Pacquiao prepares for his curtain call against Timothy Bradley, the third and decisive meeting between the two, there is an overriding feeling that not many people are too bothered.
By his own admission, Pacquiao will retire from boxing after the Bradley fight to fully immerse himself in the world of politics in his homeland, where he is challenging for a seat in the Philippine Senate.
This time last year, the eight-weight world champion was preparing for a fight the boxing world had waited six years to see. A showdown for the ages with Floyd Mayweather Jnr promised to settle once and for all who the best fighter of a generation was. Pacquiao's underwhelming performance in a contest that inevitably failed to live up to expectation was a tough pill to swallow, especially for those who forked out a record $100 to order the PPV across the Atlantic. The somewhat feeble excuses that followed didn't exactly provoke sympathy, either. After being rather comprehensively beaten via an unanimous judges' decision, Pacquiao claimed a shoulder injury he failed to disclose before the fight was the reason for his limp performance. It's a pity the injury was only disclosed after he pocketed a nine-figure sum for the fight.
That move prompted a barrage of lawsuits against the 37-year-old and Top Rank on the simple basis that those who ordered the PPV – 4.4m to be exact – had paid a hefty sum to watch the fight sold to them with misleading information – that being that Pacquiao was fit enough to challenge for Mayweather's crown despite later claiming otherwise.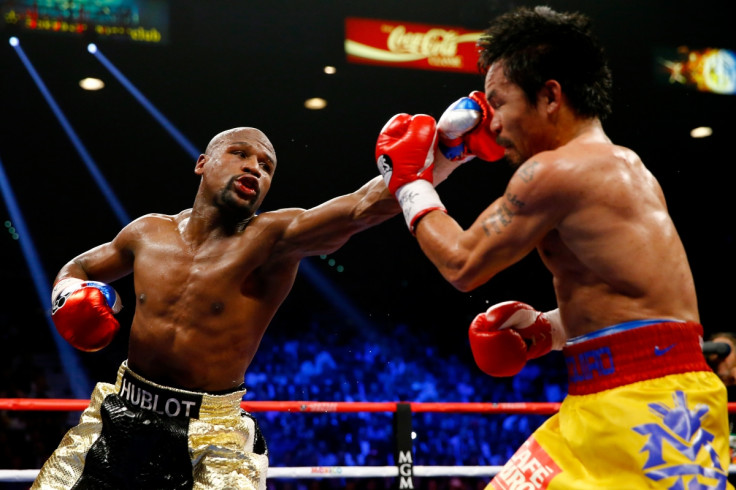 The whole process left a very sour taste and while no one doubted the legitimacy of the injury – surgery on a torn rotator cuff the following month that ruled him out for the next six settled that – it left Manny and his team looking weak.
In the months that followed as he recovered, he persistently lobbied Mayweather for a rematch. Mayweather's own retirement in September 2015 put an end to that. The chances of that happening even had the undefeated American hung around were slim; Mayweather felt Pacquiao's excuses after their meeting at the MGM Arena were those of a "coward" and a "sore loser", ending talk of a rematch in that interview with Showtime.
If the aftermath of the Mayweather defeat was damaging for Pacquiao, it was nothing compared to the comments from the veteran in February 2016. The Filipino claimed gay people "are worse than animals" during a televised debate as part of his campaign for a senate seat, comments which were widely condemned and cost him his multi-million dollar deal with Nike, who severed ties with the fighter days later.
He would later apologise for any offence caused and recently insisted his comments had been taken out of context by the broadcaster. "The interview was five to 10 minutes long and they cut it," Evangelical Christian Pacquiao said.
The comments obviously had a harmful effect on his reputation, but leading up to his final fight with Bradley; it was the only real side story. Following the defeat to Mayweather, fights with Terence Crawford and Amir Khan were touted, new opponents for the aging superstar that would have been far more compelling tests.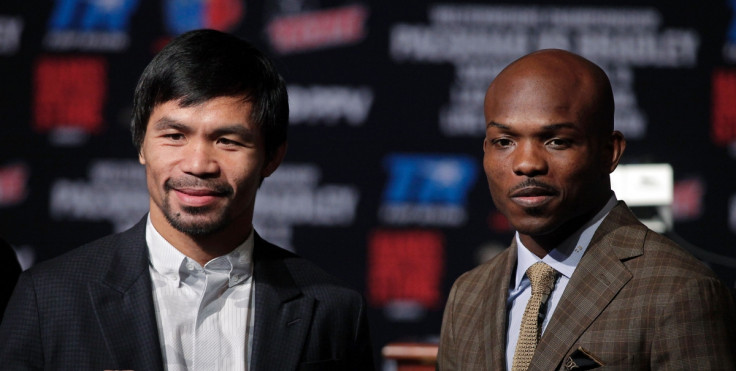 Instead, Pacquiao vs Bradley III takes centre stage. While Saturday's fight will be the decider, Pacquiao's 2012 defeat to Desert Storm via a split decision was widely regarded as the wrong call, with his comprehensive victory in their 2014 rematch that saw him reclaim the WBO welterweight title underlining that. Arum believes Saturday's fight will attract between 700,000 (the approximate number from their 2012 bout) and 800,000 US PPVS buys (the reported number from their second). It's an unfair comparison, but the Mayweather fight smashed records in securing 4.6m. In the eyes of many fans, Pacquiao has already won the first two meetings. Is there any point in a third?
Pacquiao will of course leave a lasting legacy. Any rags to riches story in sport will have striking resonance, particularly in boxing. His blistering run from 2001 and 2011 that saw him rise form a junior featherweight champion to a bona fide welterweight king saw him carve his reputation as one of the world's best. In 2008, he destroyed Oscar de La Hoya in a victory that rocked boxing, smashing an all-time great around the ring like a ragdoll and securing his place in history. Clashes with Erik Morales (winning two of their three contests), Marco Antonio Barrera (two wins) and Juan Manuel Marquez (beating perhaps his greatest rival twice, losing once and drawing once) helped enhance his status as a great, blessed with a borderline ridiculous combination of quickness and power that left so many in his wake.
But when it comes to recalling Pacquiao's memorable moments, Saturday's meeting with Bradley is unlikely to register. After a year to forget, it seems apt to conclude it with a fight no one will remember either.