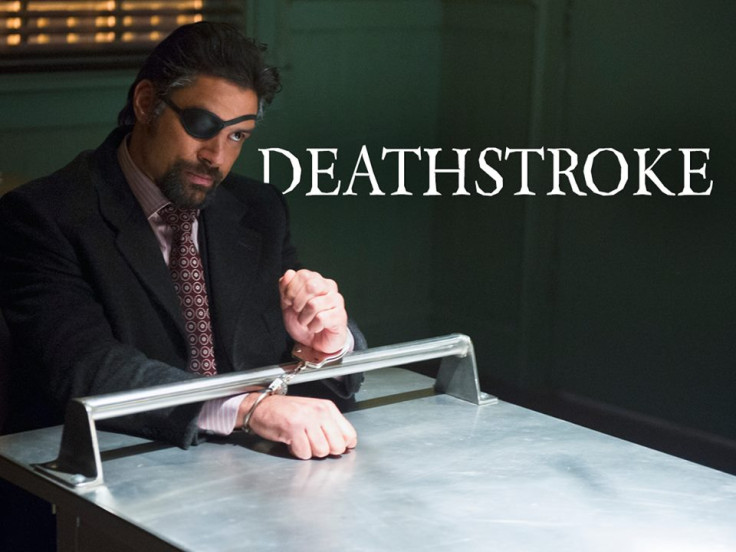 There is a lot of confusion about Deathstroke's return in Arrow season 5 finale. While series star Stephen Amell and co-showrunner Marc Guggenheim have confirmed that Manu Bennet will return as beloved villain Slade Wilson, aka Deathstroke in Arrow, Bennet took to social media to deny the reports.
Bennett revealed that he will not be coming back to Arrow since he is currently in Auckland filming The Shannara Chronicles. In the first tweet he wrote, "For the record - I'm not going back for Arrow! #assumptionisthemotherofall...."
The actor, who reprised Deathstroke role in Arrow's milestone 100th episode, later shared a photo of himself filming in Auckland to end this speculation, as Arrow is filming in Vancouver. Alongside the pic, the 37-year-old actor wrote, "Enough b.s about d.s!!! FACT: Deathstroke #Arrow are currently filming in Vancouver IS NOT ME. I am in Auckland filming #shannarachronicles."
Previously, Amell, who plays Green Arrow on the show, took to Twitter to confirm Bennet's return. Alongside a photo of Deathstroke's mask, the actor wrote on Twitter, "Desperate times call for desperate measures. Welcome back @manubennett."
Guggenheim retweeted Amell's post and added, "Couldn't be more excited about this!" Later he shared the script details for Arrow season 5 finale, which is titled, titled Lian Yu. "BTW, the return of @manubennett is only the first of a few exciting announcements about Arrow's sixth season finale..." the co-showrunner wrote on Twitter.
It is now unclear whether Manu Bennett will return, or someone else will don Deathstroke suit for Arrow season 5 finale, which is set to air on 24 May. Previously, Arrow executive producer Wendy Mericle hinted that Oliver will turn to surprising ally to defeat Prometheus, and fans can't help speculate it is Deathstroke.
She said, "The alliances are going to be very surprising. You're not going to believe who Oliver is working with to defeat Prometheus. It's going to be really emotional. It's going to be all about Oliver's family, but not the family we're thinking of right now. It's going to end in a giant explosion, but not where we think it's going to end, and the emotional punch is going to be bigger than the actual physical part of the bombs going off."
Arrow season 5 is currently on hiatus, and will return with new episodes on Wednesday (26 April ) at 8 pm on The CW.