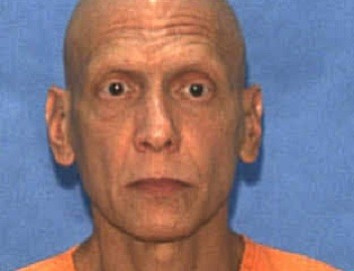 Manuel Pardo, dubbed the Death Row Romeo for corresponding with so many women during his time in prison, is due to be executed in Florida State Prison tonight (Tuesday) at 11pm GMT.
Former police officer Pardo, 56, was sentenced to death in 1988 for killing nine people - three women and six men.
He killed his victims during a crime spree in 1986 after he was fired from the police force for lying. US Judge Timothy Corrigan denied Pardo's most recent request for a stay of execution.
Pardo's attorneys are still trying to block his execution, by lethal injection, and maintained that he was mentally ill.
"Anyone who would get up and ask a jury sentence him to death is insane," said his lawyer, Ronald Guralnick.
Pardo said during his trial that he was doing the world a favour by murdering his victims.
"I am a soldier, I accomplished my mission and I humbly ask you to give me the glory of ending my life and not send me to spend the rest of my days in state prison," he told the jury.
Pardo was fired after testifying in the trial of a colleague who was accused of smuggling drugs when he lied and told the court that the officer was an undercover agent.
He started his law enforcement service with the Florida Highway Patrol but was fired in 1979 for falsifying traffic tickets. Pardo was then recruited to the police department in Sweetwater, a city in Miami-Dade County.
Nazi obsession
Over 92 days, Pardo committed a number of robberies, killed nine people and took photos of the victims. He recounted details of the murders in a diary and kept newspaper clippings of their deaths.
One of his victims was a former informant. The others were people in the wrong place at the wrong time. He told the jury how he wanted to murder more people: "They're parasites and they're leeches, and they have no right to be alive. Somebody had to kill these people."
He had become fascinated with Adolf Hitler during the period and collected Nazi memorabilia.
Prosecutor David Waksman told the Miami Herald: "He was very cold. He was doing robberies and went home and slept like a baby. He was proud of what he did."
Regino Musa, the brother of victim Sarah Musa, said he was glad the execution was finally taking place. "It's about time," he said. "It's been so long, you just want to get it over with.
"I still have nightmares and I don't have words to describe it. I can't believe that it's happening."
Musa was to attend the execution with his mother.