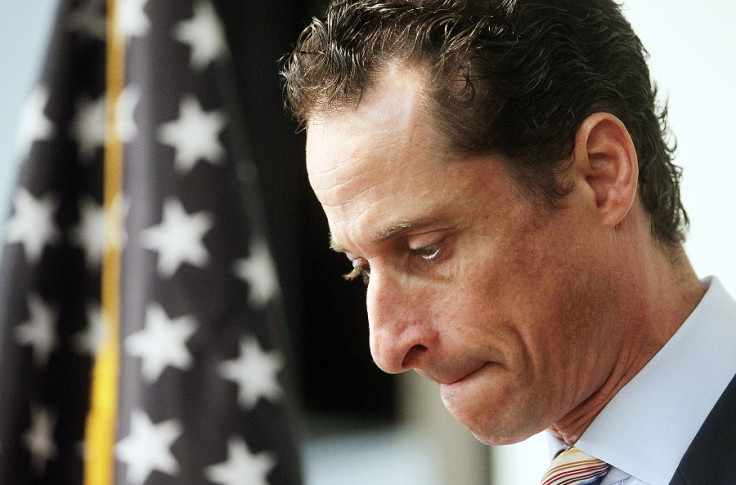 Anthony Weiner's political career lays in tatters after the former US Republican congressman was caught sexting for a third time. The 51-year-old sent at least a dozen sexually suggestive photos to a divorced woman in her 40s, the New York Post reported.

One of the photos featured Weiner posing topless next to what appears to be his sleeping son, Jordon. The slew of images was the final straw for his wife Huma Abedin, an aide to US presidential candidate Hillary Clinton, who announced she was separating from the love-cheat after six years of marriage.
"After long and painful consideration and work on my marriage, I have made the decision to separate from my husband. Anthony and I remain devoted to doing what is best for our son, who is the light of our life. During this difficult time, I ask for respect for our privacy," Abedin said in a statement.
The scandal is an embarrassment for Abedin, whose close links with Clinton meant her husband's infidelity was seized upon by presidential opponent Donald Trump who said: "Who knows what he [Weiner] learned and who he told? It's just another example of Hillary Clinton's bad judgement."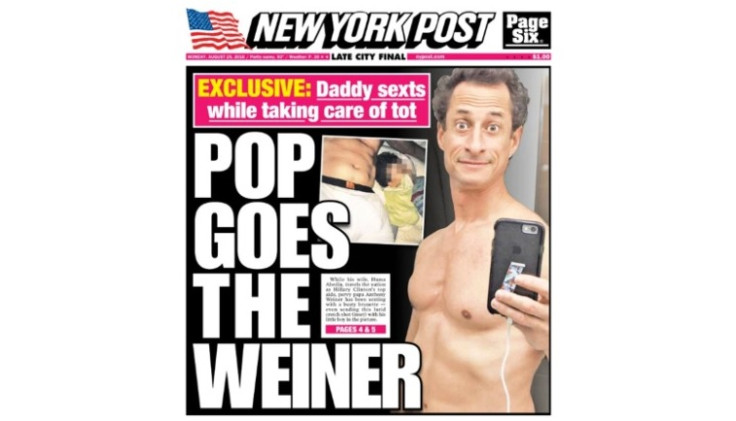 The recent episode is not the first time Weiner has been caught sexting women. In May 2011 he sparked "Weinergate" when he sent a sexually explicit photo of himself to a woman who followed him on Twitter.
He originally denied the crotch shot was his but after more photos emerged Weiner called a press conference and admitted he had exchanged messages and photos with six women over a three-year period. It later emerged his wife had been expecting their first child at the time the news broke and Weiner resigned from Congress a month later.
Two years later Weiner said he wanted to put his sordid past behind him as he launched a bid for the New York mayoralty and asked the public for a second chance. After polls put him in contention to replace Michael Bloomberg he became embroiled in yet more controversy with sexually charged messages once again the focus.
Weiner had been sexting a porn star named Sydney Leathers hiding behind the Twitter name "Carlos Danger". As details of the online affair became known it emerged he had continued sexting at least three women since 2012, one of whom called him an "argumentative, perpetually horny middle-aged man". Weiner failed to get onto the mayoral ballot and three years later faces slipping into political ignominy after the new revelations.