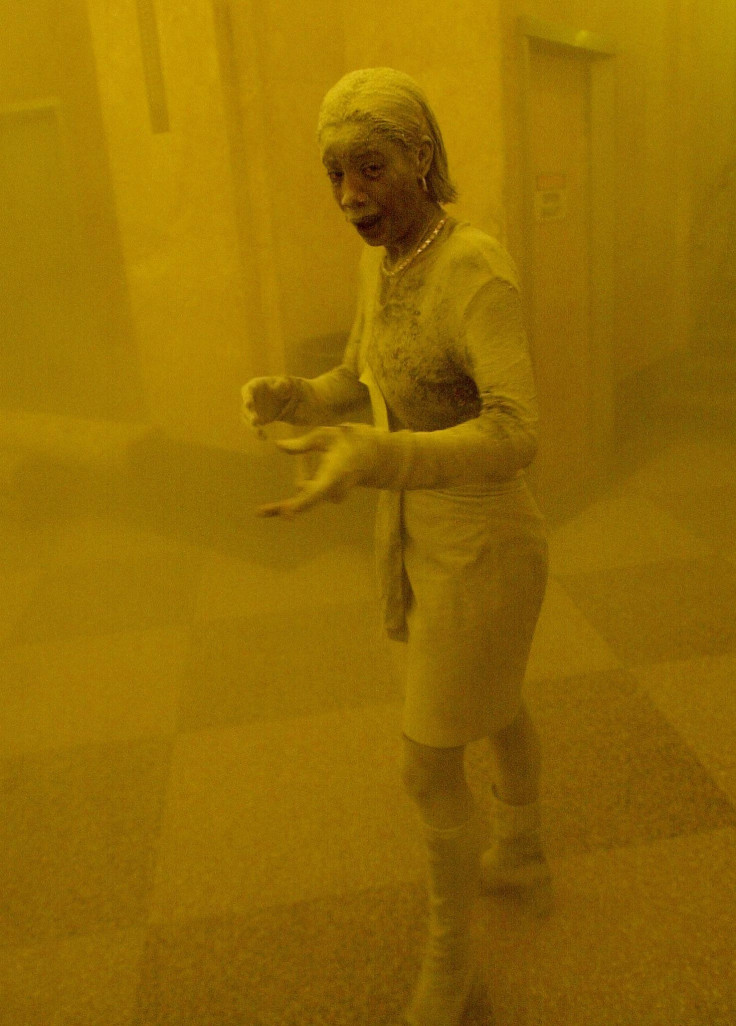 A survivor of the 9/11 terror attacks who was captured in one of the world's most powerful photographs amid the pandemonium on that fateful day has died after succumbing to stomach cancer, aged 42. Marcy Borders was a mother of two and her death was announced by her family on 24 August.
"I can't believe my sister is gone," Ms Borders's brother, Michael posted on Facebook. Her cousin, John Bordes, also posted an emotional message on the social media site, calling Ms Borders his "hero" and saying that she "unfortunately succumbed to the diseases that has ridden her body since 09/11. Thank you all for your heartfelt wishes and concerns. In addition to losing so many friends, co-workers, and colleagues on and after that tragic day. The pains from yesteryear has found a way to resurface."
Since that harrowing experience in New York, Ms Borders questioned whether her illness was related to the events of 9/11. "I'm saying to myself: 'Did this thing ignite cancer cells in me?" she had stated. "I definitely believe it because I haven't had any illnesses. I don't have high blood pressure, high cholesterol, diabetes."
Just one month into her new job as a legal assistant at Bank of America's 81st floor offices in the World Trade Center, Ms Borders was ordered to stay at her desk by her boss when American Airlines Flight 11 crashed into the skyscraper. She defied the directive and rushed down to the street amid the chaos, panic and ominous dust clouds that darkened the city.
As the fright rose like a crescendo when one of the towers collapsed, the 28-year-old Ms Borders was pulled to safety in a nearby building by a complete stranger. It was at that moment Agence France-Presse photographer, Stan Honda captured the haunting image of a dust-covered Ms Borders staring at the lens with her eyes squinted and mouth agape for air with an eerie yellow luminescence providing just enough light for one of the most iconic photographs from that day.
"I was picking the junk off the desk, getting ready to start my day," Borders said in a 2011 interview. "That was when the plane hit. That's when the building started quaking and swaying. I lost all control, and I went into a frenzy. I fought my way out of that place.
"Hundreds of people were trying to get out. My stairwell was badly damaged and we had to move stairwells, I was convinced we were going to die. I'm so glad I had the strength to get to the bottom. There were wounded and the injured, it was too much for one to witness.
"I saw people with things sticking out of them, covered head to toe in blood. I couldn't understand it. What I saw was carnage, and I thought: 'God, I'm going to die anyway.'"
Following the events of that day, Ms Borders' life went downhill: she suffered from severe depression and developed an addiction to crack cocaine. "I didn't do a day's work in nearly 10 years, and by 2011 I was a complete mess," she said. "Every time I saw an aircraft, I panicked."
Tributes for the survivor of the US' worst terrorist attack have poured in on social media. Watch the video below in which Ms Borders describes her story on that tragic day that claimed the lives of 2,977 people in New York.