Britain's Marilyn Okoro has labelled UK Athletics head coach Charles van Commenee a bully following her non-selection for the 800m at the London 2012 Olympic Games.
Despite being one of four athletes to have achieved the 'A' standard qualifying time on multiple occasions, Okoro was overlooked for the event, with European silver medallist Lynsey Sharp being preferred ahead of the quartet.
Okoro's omission appeared to hinge on her performance in the UK Trials, where she faded badly despite a strong start, while a later appeal was rejected by UK Athletics.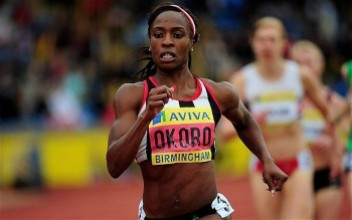 "I'm really upset given the circumstances, ok I had a disaster at trials but that was one bad race against six other points in the criteria and I have five of those," she said.
"I can understand selection in isolation but there's been so much inconsistencies about the pickings and I was absolutely appalled when I got my appeal rejection and I was like 'how does this differ?'
"It was never a question of me not being in form I just had a bad day at the trials. I wasn't helped by the head coach being a bit of bully the day before but at the end of the day I'm full of emotions I can't always control them so I've just got to learn from it."
Welshman Gareth Warburton saw his omission overturned by UK Athletics, leaving Okoro to reflect on a Games which while she will compete in the women's 4x400m team, will see her miss out on running in her specialist event.
Such was her disenchantment with the selection policy that Okoro claimed amid her disappointment that she would quit the sport.
She has since gone back on that initial decision and says such is the pressure on athletes to perform, that they are prone to a knee jerk reaction.
"Obviously the Olympic is a massive part of this year but unfortunate it's not my path I this 2012 Olympics in the 800m so I definitely can't quit now," she added.
"People forget we're human beings, we might put on a show and do something pretty extraordinary on the track but I've still got all the same blood running through my veins and all the same emotions and obviously there was a lot going on.
"With the quitting, that was at the height of emotions and obviously as soon as I had that thought the fighter in me; I've wanted to quit so many things at so many times and I'm still here."