The stage was set for another of those monumental Anfield occasions. Scarves aloft The Kop greeted their team with a passion and fervour synonymous with their European traditions, an atmosphere renowned for shaping such epic battles.
Buoyed by the sound of 40,000 screaming banshees Liverpool tore into Real in a breathless opening. Then the sucker punch.
Cristiano Ronaldo's goal didn't so much silence The Kop as terrify it, signalling an inevitable onslaught.
Those daring to dream were suddenly reminded of a huge gulf in class. The next twenty minutes proved painful viewing, the reds pummelled into submission and at risk of serious humiliation. Sky likened the contest to a boxing match and if that were the case Liverpool were cruelly cast as Audley Harrison.
Outclassed and outthought they trudged off at half time seemingly punch drunk, traumatised by their experience.
There is of course no shame in losing to Madrid. The latter are not only the reigning Kings of Europe but perennial semi-finalists, an-all consuming footballing beast known to eat up better sides than Liverpool. Bayern Munich anyone?
Liverpool could have fielded any team and any formation and still have succumbed to such majesty. That fact has been forgotten today as the media's penchant for the blame game wins out. If the red tops are to be believed last night's loss had nothing to do with Real's mesmeric movement, imagination and interplay but instead one Mario Balotelli.
Yes, him again.
Subbed at half-time, the Italian's recent struggles continued. His decision to swap shirts with Pepe was ill-advised and provocative, causing Graeme Souness to foam at the mouth. Yet in truth there is little wrong with the aforementioned action, indeed on-field pleasantries are commonplace throughout Europe.
That said, it was a foolish move – particularly in view of crowd and cameras, it's not something WE do. That is Balotelli's major flaw – his seeming inability to think.
He means well. Take his social media accounts as a case in point. Almost daily soundbites are fed to Liverpool supporters as he settles on Merseyside and his public duly lap it up. We do, after all, love a rogue. Think Fowler, think Suarez.
But then he takes it too far. A dig at Manchester United was clearly designed to appease his scouse following but drew the ire of rival fans and spiralled into investigations of racism. There is of course no place for that in football or society, and some of the comments aimed at Balotelli were quite sickening. That said, did he need to fan the flames?
His onfield judgement has also plagued a now infamous career. Two minutes into last night's showdown he raced forward with options left and right. The former came in the shape of Raheem Sterling who faced a direct run at the ageing Alvaro Arbeloa. Rather than feed his teammate Mario looked to shoot speculatively. Fully 35 yards out he shifted the ball right, only to bundle into a white shirt. Comical and unforgivable in equal measure.
Joke has worn thin
Such selfishness/stupidity is something which defined spells at Manchester City and AC Milan. You can laugh at it if goals and results are flowing, but Liverpool are in a major rut and the joke has worn thin.
It has become patently clear that if this move is to work the Reds will need to conform to Balotelli as he will never abandon that maverick style. A strange transfer, the deal itself smacked of a panic buy. With Luis Suarez departing the Reds went in search of a similar player, as close as they could get to the Uruguayan phenomenon. Alexis Sanchez was immediately identified. Offering pace, trickery and an insatiable work ethic, he fit the bill perfectly.
Regrettably, his wife was lured by the bright lights of London. Plan B came in the shape of Loic Remy, himself not too dissimilar from the aforementioned South American duo. That move broke down in mysterious circumstances and suddenly the clock ticked down.
The likes of Radamel Falcao and Ezequiel Lavezzi were considered until, faced with the real possibility of starting Rickie Lambert, Liverpool plumped for football's outcast - the man who both Roberto Mancini and Jose Mourinho dispensed with. Brendan Rodgers claimed the deal made sense, but previous comments suggested otherwise.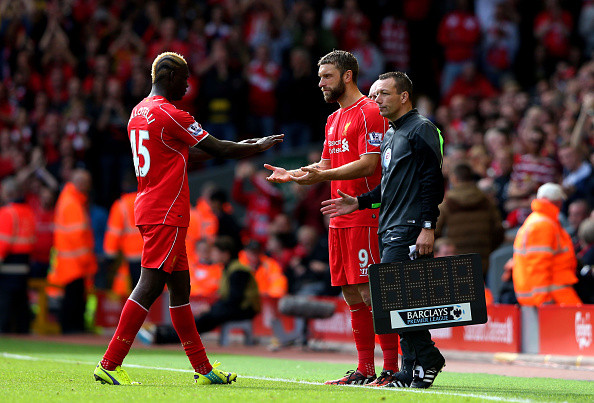 Likewise he promised Balotelli would buy into the Liverpool way but changes were made to suit him. Once a free-flowing attacking unit, Liverpool were now crossing the ball readily – fullbacks Javier Manquillo and Alberto Moreno among the guilty parties. Those sharp, inventive counter-attacks were consigned to history.
To his credit Balotelli ran himself into the ground initially, but such movement was misplaced. Seldom would he appear in the opposition's penalty area, an absence as glaring as Wayne Rooney's bald spot. His inability to run in behind also diluted Liverpool's play quite dramatically – too pedestrian, too predictable.
As goals and points eluded him, Balotelli began to slip into old habits. His determination to shoot at every opportunity leading to an embarrassing 30 shots with no reward (domestically). Last night's ignominy compounded matters.
That said he was by no means terrible. Brendan Rodgers may claim the substation was designed to beef up the midfield and prevent a landslide. More likely is that it was a shot across the bows with the game already lost, a warning that Mario's all round contribution must improve.
Although perhaps it is too early to write him off, Balotelli, like his team, is in desperate need of Daniel Sturridge. Never a lone forward he may argue that a strike partnership would bring the best out of him. The return of the England striker resembles a last chance saloon.
That it has come to this, just two months in, is quite staggering.
Aaron Cutler writes for the hugely popular Liverpool fan site This is Anfield, and is also a feature writer for Country Music People Magazine.
You can follow him on Twitter @aaron_cutler, and find out more about This is Anfield via either their website or Twitter feed.