A healthy male giraffe was fed his favourite meal of rye bread before he was shot in the head with a bolt pistol at a Danish zoo. Citing the European Breeding Programme for Giraffes, zoo authorities said they had no choice but to kill Marius because he did not make the programme's grade.
His body was dissected before hundreds of zoo visitors and the pieces were fed to other animals.
The incident has stirred outrage. An international petition to save Marius gathered 27,000 signatures and several offers to rehome the doomed giraffe were made. The petition closed as soon as news spread that the giraffe had been killed.
The European Breeding Programme for Giraffes outlines that if an animal's genes are well represented in a population, further breeding of that animal is unwanted. As Marius had common genes, his death was inevitable. A statement on the Copenhagen zoo website reads: "When breeding success increases, it is sometimes necessary to euthanise."
While inbreeding must be avoided, it seems extreme to destroy an animal because it shares genes common in giraffes. An offer was made by the Yorkshire Wildlife Park, outside Doncaster, to rehouse Marius. The offer was met with silence.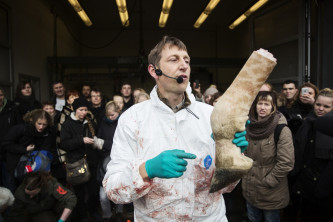 Yorkshire's head of hoofed animals, who is Danish, and the YWP had previously already taken a young male giraffe from the Danish zoo.
"YWP has a state-of-the-art giraffe house built in 2012 with a bachelor herd of four male giraffes and the capacity to take an extra male, subject to the agreement of the European stud book keeper," they said.
"One of the YWP giraffes is Palle, who came from Copenhagen zoo in September 2012, when he was the same age as Marius."
But because Marius was not the right genetic match for YWP's programme, some zoologists felt that the space should be reserved for a genetically more valuable giraffe. While working on a "scientific basis" is one of the EAZA (European Association of Zoos and Aquaria) rules, so is "ensuring animal welfare". It is arguable that in this case, while scientifically viable, the welfare of Marius was not entirely considered.
Stine Jensen, of Denmark's Organisation Against the Suffering of Animals, said the situation "should not have occurred".
She told the BBC: "I can't believe it. We offered to save his life. Zoos need to change the way they do business.
"It just shows that the zoo is not the ethical institution it wants to portray itself as being, because here you have a waste product - that being Marius.
"Here we have a zoo which thinks that putting this giraffe down instead of thinking of alternatives is the best option."
Contraceptives are not a viable option, as natural breeding is favoured over the unwanted side effects on the internal organs of giraffes. Yet arguments have been made over why Marius was not moved to a different home or rehabilitated into the wild.
A statement on the Copenhagen zoo website reveals it is "not easy to reintroduce an animal to the wild" and "many factors have to be considered". The rules are set out by the International Union for Conservation of Nature, but the animal cannot be freed if there is no chance of survival.
Robert Krijuff, the director of a wildlife park in the Netherlands whose offer a place was also rejected, said: "I can't believe it. We offered to save his life. Zoos need to change the way they do business."