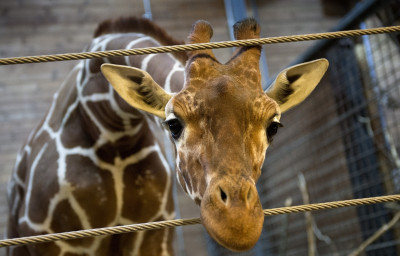 In a bid to prevent in-breeding, a healthy young giraffe named Marius was killed by the Copenhagen Zoo despite online petitions and offers from other zoos and institutions to house the animal.
The death of 18-month-old Marius has sparked outrage and protests around the world and celebrities have took to Twitter to express their disgust.
Ricky Gervais: "Very disappointed in Copenhagen zoo. Destroying a beautiful healthy animal because it was surplus to your needs just isn't good enough."
American actress Kirstie Alley: "Oh man,I've seen a lot of abuses in my life, but this baby Giraffe killing at the Copenhagen Zoo is overwhelming. I have to take a cry walk."
She later added, "Dear Zoo's, when an animal doesn't meet UR "breeding" criteria, place it somewhere else. Take responsibility for bringing it into existence"
Bengt Holst, the zoo's scientific director, justified the killing, despite the protests. "We have been very steadfast because we know we've made this decision on a factual and proper basis. We can't all of a sudden change to something we know is worse because of some emotional events happening around us.
"It's important that we try to explain why we do it and then hope people understand it. If we are serious about our breeding activities, including participation in breeding programmes, then we have to follow what we know is right. And this is right," he added.