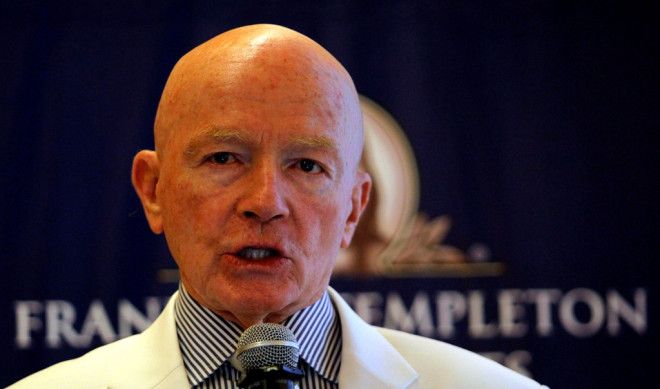 Templeton Emerging Markets Group boss Mark Mobius is investing in technology stocks in the wake of a global retreat that has left companies like Asia's largest Internet firm Tencent Holdings trading at "reasonable" valuations.
Mobius, who manages about $50bn (£30bn, €36bn), is increasing holdings amid a rout that wiped out this year's gains in the Bloomberg Asia Pacific Internet Index and pulled down the Chinese social media giant's stock to a two-month low.
The Bloomberg Asia Internet measure shed 3.8% on 7 April; Tencent fell 4.5% at 13:40 hrs in Hong Kong.
In Japan, telecoms major SoftBank, which holds a stake in Chinese e-commerce giant Alibaba Group, fell 4.5%. In South Korea, the nation's leading search portal Naver lost 6.7%.
Tencent traded 23% below the average 12-month price target of 32 analysts tracked by Bloomberg. The business has lost some $32bn of market value since 6 March. SoftBank and Naver stocks were 24% and 20% below analysts' average price forecast respectively.
Investor concern that a flood of stock market flotations in the technology industry would pull down existing equity prices has eased, Mobius told Bloomberg.
Mobius also said he was not interested in Alibaba's planned New York flotation owing to concerns about the firm's corporate governance.
"If you look at Tencent for example, it's come down about 20% and that's a pretty good correction," Mobius told Bloomberg. He refused to name the stocks he was buying.
"A lot of people were concerned because of the number of new issues coming in the US market," Mobius said. "I think that's probably coming to an end now."
Technology IPOs
Sina Weibo, China's Twitter-like micro-blogging service, has filed for an initial public offering in the US, in a bid to cash in on the high valuation of internet firms in the country.
Weibo plans to raise $500m through the sale of American depository shares.
Meanwhile, a US initial public offering (IPO) is expected to value Alibaba at as much as $120bn.