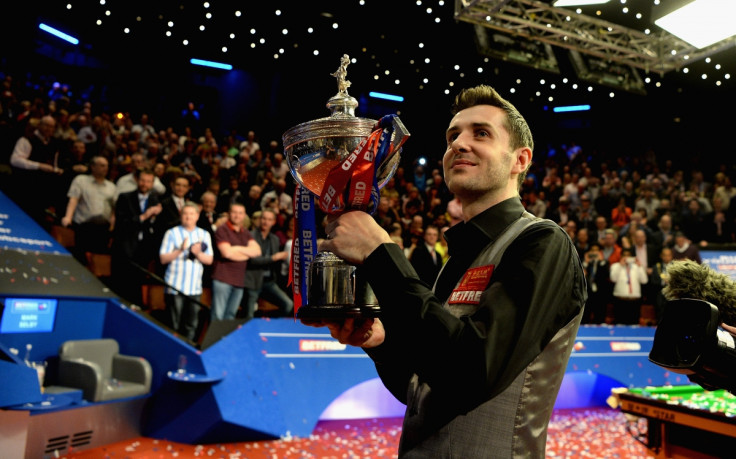 Mark Selby defeated John Higgins 18-15 to win his third World Championship title in just four years at the Crucible Theatre. The Jester from Leicester, who also won the title in 2014 and 2016, was made to work hard by his Scottish counterpart but deservedly secured victory in Monday's evening session (1 May) in Sheffield.
The 33-year-old, who received a cheque for £375,000 for his victorious exploits, looked all at sea earlier in the final and was 10-4 down at one stage, but he fought back remarkably to swing the pendulum in his favour and retain the World Championship on its 40th anniversary.
"I can't believe it, I'm still pinching myself," Selby told the BBC. "I want to congratulate John, I had hit the wall at 10-4 and had nothing left but today I came back fresh and played a lot better.
"When I was 10-4 down I was missing everything, I said pull yourself together, I tried to find something, John missed a few balls you wouldn't expect him to miss.
"To be sitting at three world titles is unbelievable, to be one of four players to defend it is something I can only dream of." the world number one added.
Higgins, a four-time winner at the Crucible, had his opponent on the ropes during the first day's play and rallied in the second, but in the end the indomitable force that is Selby proved too much for the 41-year-old.
Higgins, who reached his first World Championship final 19 years ago and is now sitting pretty as the world number two, paid tribute to a 'fantastic champion' in Selby but cursed his miss of a pink in the 12th frame, and believes that to be the turning point in the contest.
"He's granite," Higgins said. "The second session, I had my chances, I missed a pink to go 9-3 in front, that was huge frame. Mark clears up under extreme pressure and is a fantastic champion. It's been an unbelievable tournament, I gave it everything but came up short to a great champion who was too good for me on the day."