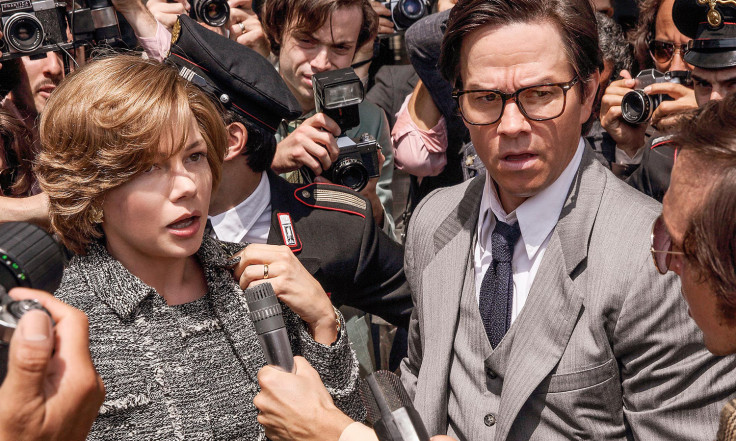 Michelle Williams was paid considerably less than 1% of co-star Mark Wahlberg's earnings for reshooting scenes in awards season contender All the Money in the World.
Wahlberg received $1.5m (£1.1m) for the reshoots, while Williams was paid just $80 a day, according to USA Today.
That amounted to less than $1,000 for scenes reshot in November to replace disgraced actor Kevin Spacey with Christopher Plummer after allegations of sexual misconduct were made.
The revelation of pay disparity has renewed the row over gender inequality in Hollywood.
The reshoot cost producer Imperative $10m but director Ridley Scott said in December that the actors did not get paid for the additional work.
"No, they all came in free. Christopher had to get paid. But Michelle, no. Me, no," Scott said.
But three sources, who remained anonymous, were cited in the report detailing Wahlberg and Williams' payments for the unprecedented shoot.
Scott's film tells the story of the kidnapping of John Paul Getty III and the attempts of his mother to get him back despite her father, J Paul Getty, then the richest man in the world, refusing to pay the ransom.
Plummer plays the grandfather, the role originally filled by Spacey, in heavy makeup.
Replacing Spacey was accomplished in an incredibly short span of time, allowing All the Money in the World to hit its 25 December release date and ensuring the movie would be eligible for this year's Golden Globes and Academy Awards.
Scott's success led to Plummer receiving a Best Supporting Actor nod at the Globes, with another nomination announced for February's Bafta film awards.
The Hollywood Reporter claimed that Plummer was in fact first choice to play Getty, but "top studio executives wanted a bigger name".
Spacey was accused last year of making unwanted sexual advances towards men. Star Trek Discovery star Anthony Rapp was first to go public with his story and accused Spacey of trying to rape him when he was just 14.
In response, Spacey said he was "beyond horrified" and did not remember the incident. He added that if it did happen as described he was "deeply sorry".
Other actors and filmmakers have come forward with their own allegations, and London's Metropolitan Police are investigating at least one alleged incident following a complaint.
Netflix severed its ties with Spacey, removing him from House of Cards shortly into its shoot. The show will return for its planned sixth and final season, with Robin Wright in the lead role.
Netflix also announced that it will no longer release Gore, a biopic in which Spacey plays Gore Vidal.