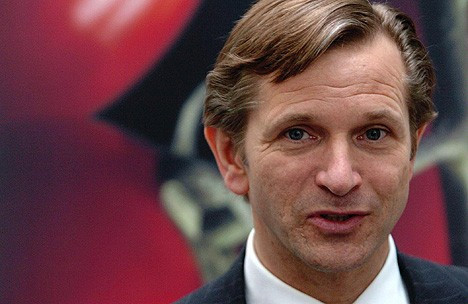 Marc Bolland, charmed investors of his company at the shareholder annual general meeting held in the Royal Festival Hall today.
The new Marks & Spencer's CEO walked amongst the tables and chairs where they were sat as they drank M&S tea and ate clotted ice-cream in an attempt to woo them as his he takes over as head of on of the most 'well-known of British businesses'.
"This brand is one of these very rare brands that exist, because it's customers trust it" said Marc in his opening speech, "I'm passionate about our customers".
Marc, best known for his 18 years at Heineken, and nick-named the Flying Dutchman boosted M&S' reputation in the City by joining them - his 'dapper' image and smart suit impressing, whilst losing Morrison's almost £400 million in share value when he left them in November them last year.
His predecessor on the other hand, a Quaker-born, Sir Stuart Alan Ransom Rose, was much maligned when he implemented Marks & Spencer's 'Plan A' ethical policy to reduce waste.
Speaking to shareholders today, Stuart announced a 'successful' year and was received generally well by an audience who applauded his every move - the son of an ex-RAF and civil servant taking every question with a savvy and bold knowledge that Bolland is sure to follow.
Meanwhile, the board, which contains UK Digital Champion Martha Lane Fox heaped complements on him, in the end putting on a heavy show of M&S' strength with resolutions passing with above 90 pct confidence, even including Marc Bolland's £15 million pay package:
"I sincerely hope he does do well - as a shareholder too - I want to receive value," said Sir Stuart Rose who added they were not paying him £15 million now, but as an incentive should he do well.
The shareholder resolutions also passed a motion to allow M&S to make political donations, a move that Sir Stuart warned was just a 'precautionary measure' although no doubt will allow the company more manoeuvring over its opponents too.
Read our full coverage on the event at Marks & Spencer - AGM
The next announcement from the company meanwhile comes on 7th October when Bolland will be making his first comments on where the company - the largest market capitalisation of any retailer on the FTSE 100 - is going to go.
Shares in the company though closed down 1.27 pct at 349.10p - proving he still has a lot to do.