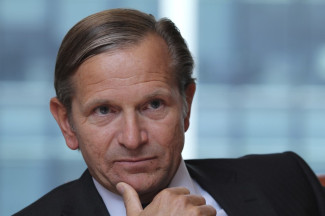 Marks & Spencer chief executive Marc Bolland has taken a 26% pay cut following another year in which the retailer saw profits dip.
M&S' annual report shows that Bolland's pay was down due to missing a bonus, before refusing to take a pay rise – which has not risen from the £975,000 ($1.6m, €1.2m) when he was first appointed in 2010.
His total pay including bonuses in the 2012/13 financial year was £2.1m, whereas for the financial year just ended, his pay had fallen by 26% to £1.5m.
The lack of a bonus was widespread across Britain's largest clothing retailer after employees failed to meet performance targets.
The annual report also shows that Bolland has spent £2.3bn over the past three years in an attempt to rejuvenate the struggling brand, particularly on the online platform – which he says is going well.
"We saw online sales rise 22.8% over the year and launched our new website," said Bolland.
"We are becoming a more multi-channel and agile business. Our new M&S.com flagship opened in February after over two years of extensive customer research and testing."
Nonetheless, M&S's profits have fallen for three straight years – the timeframe in which Bolland promised to turn the brand around.
In May, M&S' full year financial report showed that annual profits to the end of March were £623m, down from £665.2m a year earlier.