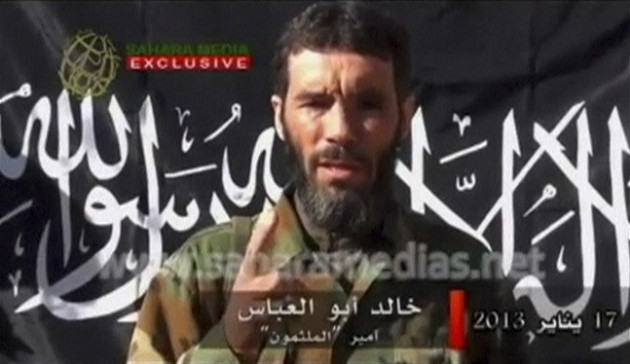 French and Malian authorities were hunting down the suspected killers of two French journalists, who were shot dead near the desert town of Kidal, amid speculation that al-Qaida or the infamous Islamist militant leader Mokhtar Belmokhtar, aka Mr Marlboro, were responsible.
The bodies of RFI's reporters Ghislaine Dupont, 51, and Claude Verlon, 58, were found lying near an abandoned vehicle on a desert road nine miles south of Kidal in northwestern Mali.
No group has claimed responsibility but authorities suspected Islamist groups operating in the area.
"There are many hypotheses: we talk about Aqim (al-Qaida in the Islamic Maghreb), Mujao (the Movement for Oneness and Jihad in West Africa), which has taken a new form, and of possible disagreements among them," French foreign minister Laurent Fabius told RTL radio.
"We aren't sure about who committed these murders."
Dupont and Verlon were forced at gunpoint into a car moments after they had interviewed a Tuareg separatist leader at his home in Kidal.
Kidal was the epicentre of a Tuareg separatist rebellion, which was taken over by jihadist groups including Aqim and Mujao, prompting France's military intervention in January.
French troops deployed in the city set up checkpoints, sent out patrols and called in helicopters to search for the journalists.
A patrol eventually found the abandoned vehicle and the bodies. They had been shot.
"They saw someone fleeing, not too far, but could not catch them," Fabius said.
"We have launched an operation to identify a certain number of people in some encampments," Fabius said.
Aqim has been behind the kidnappings of a number of Westerners but it rarely executes it captives, preferring to ransom them.
The group recently released four French hostages it had been holding captive in the African Sahel for three years.
The four were retrieved near Kidal, amid speculation that had paid up to up to €25m ($34m, £21.5m) in ransom.
On the other hand, it fits the modus operandi of Belmokhtar, who has been dubbed Mr Marlboro because of his role in cigarette-smuggling across the Sahel.
Belmokhtar is on the wanted list for masterminding the In Amenas BP gas plant siege in January in which 37 people, including six Britons, were killed.
He is also accused of organising two suicide attacks in Niger, targeting a military base in Agadez and the French-run uranium mine in Arlit that killed at least 25 people.
A former Aqim member, he split from the jihadist group and formed his own militia in 2012.
In a letter retrieved from a building Timbuktu after the legendary town was freed by French troops he was deemed an unreliable troublemaker by his former Aqim bosses.
Belmokhtar's militia recently joined ranks with Mujao to form a group known as al-Murabitoun, which has pledged to take revenge against France for its military campaign in Mali.
The bodies of Dupont and Verlon have been flown to the Malian capital of Bamako and are to be returned to France.
Fabius would not confirm claims by Malian police sources that about a dozen individuals had been arrested over the killings.