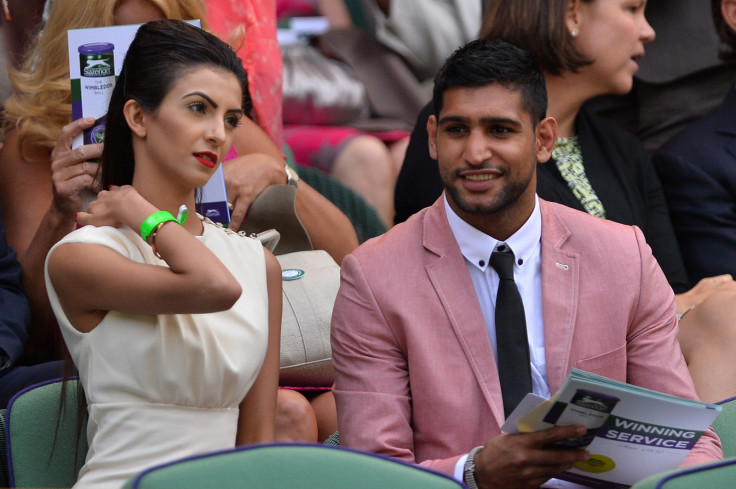 After spending time apart from his pregnant wife, I'm A Celebrity star Amir Khan has said that he is a changed man. But his texting partner begs to differ on this. In a shocking new series of allegations, model Emma Bond has claimed that the boxer has been sending her racy messages in a bid to hook up with her.
Not just that, the model-cum-mother also revealed how the Bolton-born athlete branded his pregnant wife a gold-digger, saying he is trapped in a marriage to Faryal Makhdoom.
"Amir's been saying he's changed his ways but I don't think he's got any intention of changing. He's a married man with a young child and a pregnant wife. I'm disgusted at his attitude. He seems so blasé about it," said Bond, as quoted by Mirror Online, dishing on how Khan allegedly asked her out on a date just before his appearance on Good Morning Britain earlier this week with Makhdoom.
Seated next to his heavily pregnant wife on the show hosted by Piers Morgan and Susanna Reid, Khan recently talked about their "little break" and how he is a "family man". But his model friend seems to have different tales to tell.
"When we first started messaging and talking to each other he wasn't with his wife, they were separated," said the model, according to whom Khan had first texted her on Instagram in August last year. "I was single and he seemed a nice guy and I thought he was good -looking. But then they got back together I spoke out to warn Faryal."
But Bond, who is a mother-of-two, claimed that even after reconciliation with the American-Pakistani model, Khan would continue to send her messages; even asking her to send "happy new year video with a kiss" or to "pull down the covers" in the pictures. In fact, just a day before his GMB appearance, the athlete apparently reached out to Bond asking her "are we still on for Friday?"
IBTimes UK has reached out to Khan's representative about the allegations and is awaiting a response.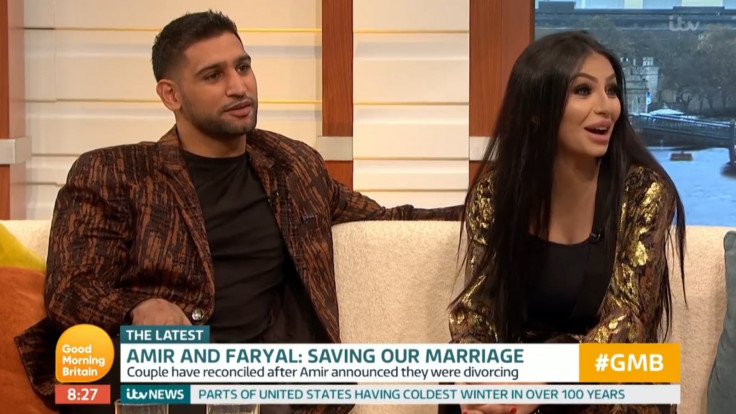 "I didn't go to meet him and now I wouldn't meet him. He said he wanted to take me out in Manchester," says Bond, "But I was cross with him, especially after him saying all the stuff about ­being back with his wife. I sympathise with Faryal. He says he feels trapped ­because she is pregnant and that he doesn't want to be in that relationship. He said she's only with him for the fame."
Calling him "sneaky" the model adds: "He's been asking me to send videos and to pull my top down. He's an embarrassment to his family and children. I just hope he learns a lesson from this and that Faryal can get some insight into what her husband is up to behind her back."
Incidentally, Bond is not the only model to be linked with Khan since his chat with Piers on his show. In a report published by The Sun, it's been claimed that the boxer set up a date with model Sandy Hunter just after the show, at London's Docklands.
The pair allegedly enjoyed a few cocktails before their hotel romp. However, the claims against Khan have not been independently verified by IBTimes UK.